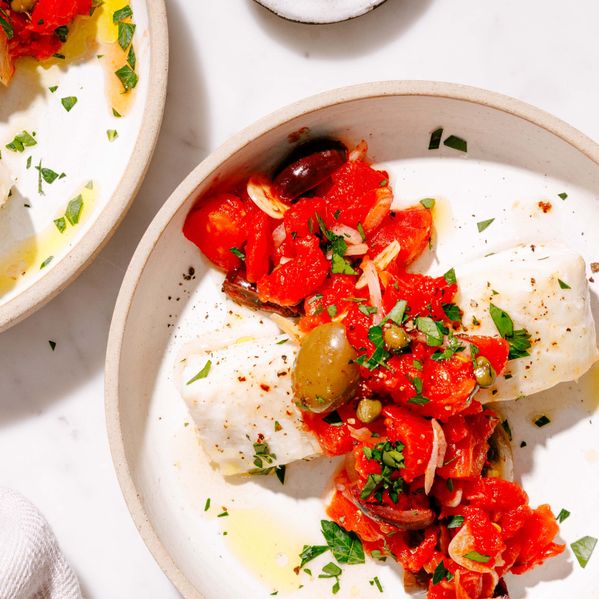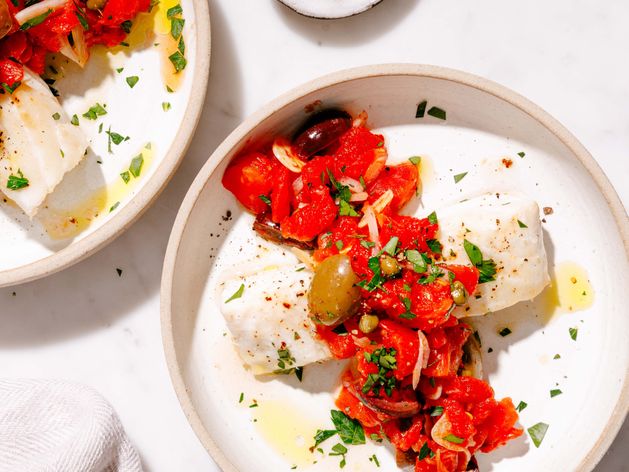 Ingredients
1 can (14.5 oz) diced tomatoes, strained and juices reserved
1 thinly sliced shallot
2 minced garlic cloves
¼ cup pitted and halved olives
2 tablespoons drained capers
½ teaspoon crushed chili flakes
¼ cup chopped fresh Italian parsley
2 halibut fillets (each about 1" thick)
Cooked pasta or polenta for serving (optional)
From Your Pantry
extra-virgin olive oil
kosher salt and black pepper
Equipment
Brava metal tray
mixing bowl
Nutrition Information
Allergens: Fish
Tags
Dinner
Kid Friendly
Whole30®
Brava Accessory
Chef's Pan
Dairy Free
Date Night
Fish
Gluten Free
Keto
Paleo
Seafood
Serves 2
Shellfish
Signature Entree
Weekend
Weeknight
Nutrition Information
Allergens: Fish
Keywords
Dinner
Kid Friendly
Whole30®
Brava Accessory
Chef's Pan
Dairy Free
Date Night
Fish
Gluten Free
Keto
Paleo
Seafood
Serves 2
Shellfish
Signature Entree
Weekend
Weeknight
1
Prep vegetables and halibut
In medium bowl, stir together tomatoes, shallot, garlic, olives, capers, chili flakes, parsley, 2 tablespoons extra-virgin olive oil and a pinch of salt and pepper. Evenly spread vegetables in Zones 2 and 3 of Brava metal tray.
Pat halibut dry with paper towels.
Season halibut on both sides with a pinch of salt.
Place halibut in Zone 1 of metal tray.
2
Roast halibut & vegetables
Slide metal tray into top oven shelf.
Select "Halibut Puttanesca" on your oven touchscreen and follow instructions.
3
Serve
When your food is done, transfer vegetables to same bowl and add stir in reserved tomato juices.
Serve with pasta or polenta on the side, if desired.