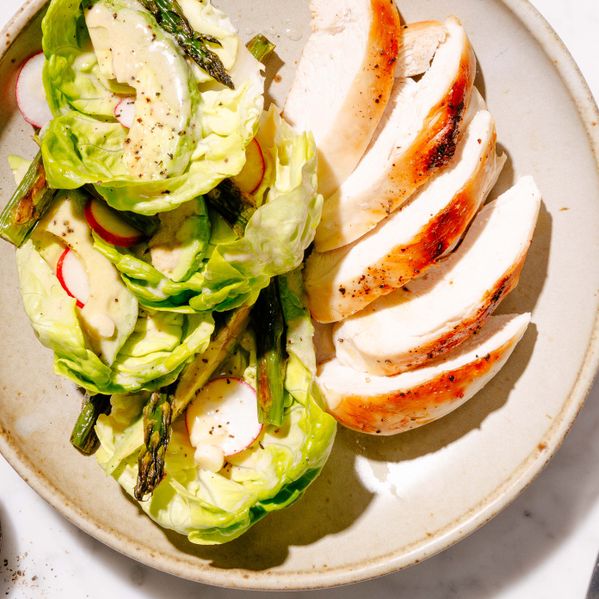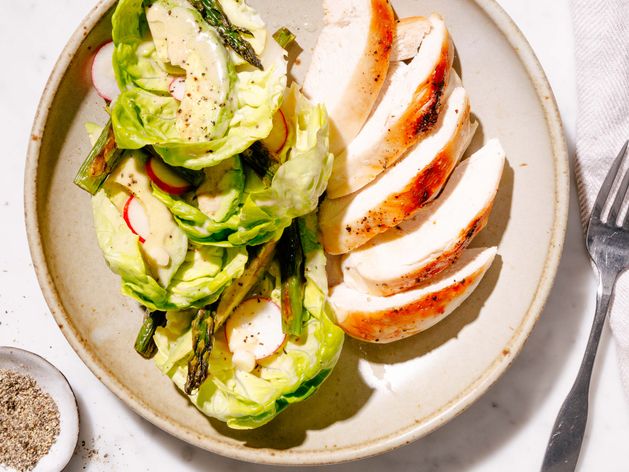 Ingredients
1 bunch scallions, white and green parts separated
2 tablespoons rice wine vinegar
2 tablespoons lemon juice
4 spears asparagus (2-inch pieces, bottom 2 inches trimmed)
2 boneless, skinless chicken breasts
1 tablespoon mayonnaise
1 tablespoon Dijon mustard
1 head Butter lettuce
¼ cup thinly sliced radishes
1 avocado
From Your Pantry
cooking oil
extra-virgin olive oil
kosher salt and black pepper
flaky sea salt (optional)
Equipment
Brava metal tray
Brava TempSensor
mixing bowls
Nutrition Information
Allergens: Eggs
Tags
Lunch
Dinner
California
Chicken
Metal Tray
Salad
Serves 2
Spring
Weekday
Weeknight
Nutrition Information
Allergens: Eggs
Keywords
Lunch
Dinner
California
Chicken
Metal Tray
Salad
Serves 2
Spring
Weekday
Weeknight
1
Prep vegetables & chicken
Thinly slice the scallion white parts, and combine in a bowl with rice wine vinegar, lemon juice and a pinch of kosher salt. Let stand until ready to serve.
In medium bowl, toss together asparagus, 1 teaspoon cooking oil and a pinch of kosher salt.
Evenly spread asparagus in Zone 1 of Brava metal tray.
In same bowl, toss together green part of scallions, 1 teaspoon cooking oil and a pinch of kosher salt.
Evenly spread scallions in Zone 3 of metal tray.
Pat chicken breasts dry with paper towels.
Season chicken on both sides with salt.
Place chicken in Zone 2 of metal tray. Make sure thickest chicken breast is on left side of Zone 2.
2
Roast vegetables & chicken
Slide metal tray into top oven shelf.
Select "Spring Chicken Salad" on your oven touchscreen and follow instructions.
After plugging in TempSensor, insert it horizontally through center of chicken breast.
While food cooks, prepare pesto.
3
Make dressing and salad
Remove the scallion whites from liquid, reserve in small bowl. Whisk in mayonnaise, dijon mustard, 4 tablespoons extra-virgin olive oil and a pinch of kosher salt.
Tear Butter lettuce into bite size pieces, place in a bowl with scallion whites and radishes.
Remove Avocado core and skin and cut into 1" pieces, season with salt and pepper and reserve to lay on top of finished salad.
4
Finish & serve
When your food is done, remove scallions, chop and add to dressing.
Cut asparagus into 1" pieces, add to contents of Butter lettuce bowl with dressing and divide between 2 plates. Scatter avocado across the top.
Cut chicken crosswise into slices and place on top of salad.
If desired, sprinkle chicken with flaky sea salt.