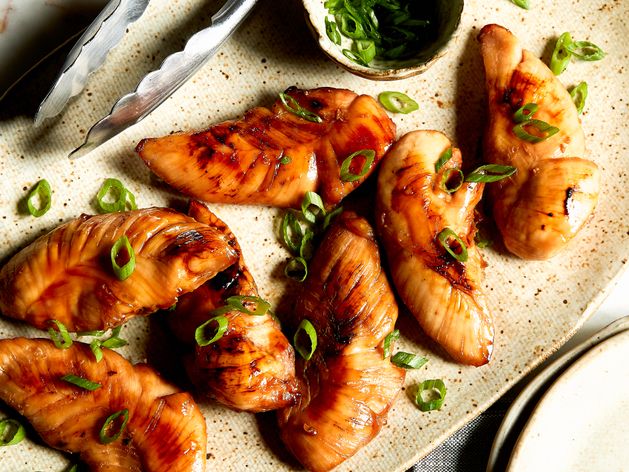 Ingredients
8 chicken tenders
½ cup teriyaki sauce
1 green onion
From Your Pantry
kosher salt (optional)
Equipment
baking dish or large plastic bag
Brava metal tray
Nutrition Information
Allergens: Soy, Wheat (Gluten)
Tags
Dinner
Kid Friendly
Asian
Chicken
Dairy Free
Metal Tray
Serves 4
Side
Sides
Snack
Weeknight
Nutrition Information
Allergens: Soy, Wheat (Gluten)
Keywords
Dinner
Kid Friendly
Asian
Chicken
Dairy Free
Metal Tray
Serves 4
Side
Sides
Snack
Weeknight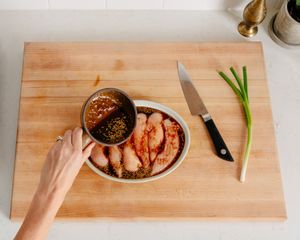 1
Prep chicken
Pat chicken tenders dry with paper towels.
Pour two-thirds of teriyaki sauce into a baking dish or large plastic bag. Save remaining sauce for glazing in Step 4.
Add chicken to sauce in dish or bag and coat evenly. Marinate at room temperature for 10 minutes or refrigerate for up to 24 hours.
Remove chicken from marinade and allow excess to drip off; discard marinade.
Evenly spread chicken in Zones 1, 2 and 3 of Brava metal tray.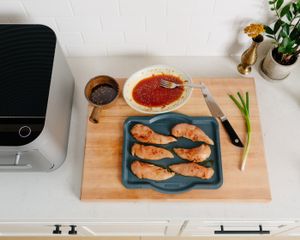 2
Slide metal tray into top oven shelf.
Select "Teriyaki Chicken Tenders" on your oven touchscreen and follow instructions.
While food cooks, prepare green onion.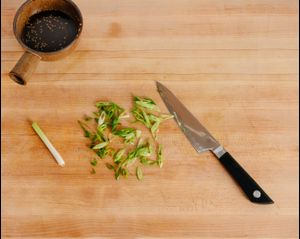 3
Prep green onion
Remove green top from green onion. Save white portion for another use.
Cut green onion top on the diagonal as thinly as possible.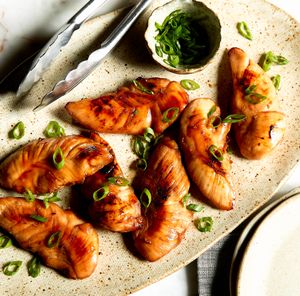 4
Glaze chicken & serve
When your food is done, arrange chicken on individual plates and spoon remaining teriyaki sauce over chicken. If desired, season with a pinch of salt.
Garnish with green onion top.