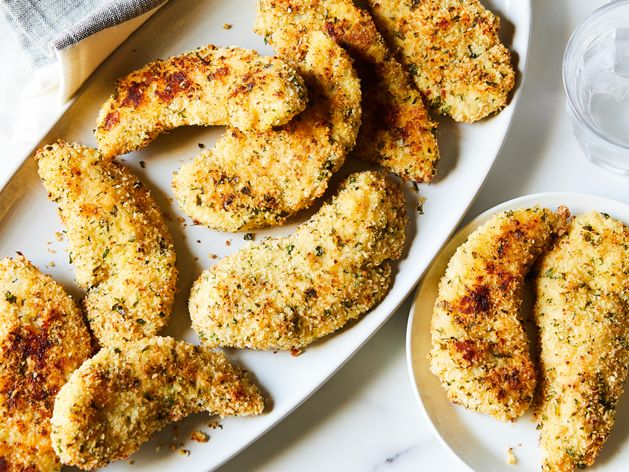 Ingredients
½ cup all-purpose flour
2 eggs
½ oz fresh flat-leaf parsley
¾ cup panko bread crumbs
¼ cup grated Parmigiano-Reggiano
¼ teaspoon garlic powder
8 chicken tenders
From Your Pantry
cooking oil
kosher salt
Equipment
3 mixing bowls or shallow baking dishes
Brava metal tray
Wire cooling rack (optional)
Nutrition Information
Allergens: Milk, Eggs, Wheat (Gluten)
Tags
Dinner
Kid Friendly
All American
Chicken
Dairy Free
Italian
Metal Tray
Side
Sides
Snack
Weekend
Weeknight
Nutrition Information
Allergens: Milk, Eggs, Wheat (Gluten)
Keywords
Dinner
Kid Friendly
All American
Chicken
Dairy Free
Italian
Metal Tray
Side
Sides
Snack
Weekend
Weeknight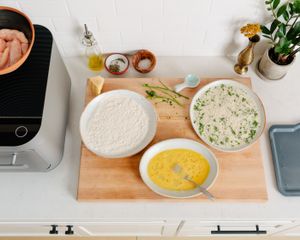 1
Prep breading
Pro Tip: When breading chicken, use one hand for wet ingredients and the other for the dry. This will prevent messy, sticky fingers.
Place flour in first bowl.
Crack eggs into second bowl and lightly beat with a fork.
Remove parsley leaves from stems; coarsely chop leaves.
In third bowl, combine parsley, panko bread crumbs, Parmigiano-Reggiano, garlic powder, 3 tablespoons cooking oil and ½ teaspoon salt; stir well, breaking up any lumps.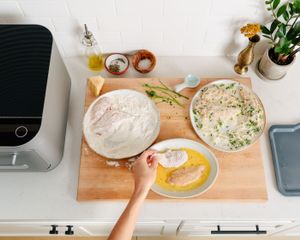 2
Bread chicken tenders
Pat chicken tenders dry with paper towels.
Add chicken to bowl with flour and coat evenly; shake off excess.
Dip chicken into eggs and coat completely; shake off excess.
Dip chicken into bread crumb mixture and coat evenly; shake off excess. Using your hands, gently press breading into chicken to ensure it adheres.
Evenly spread chicken in Zones 1, 2 and 3 of Brava metal tray.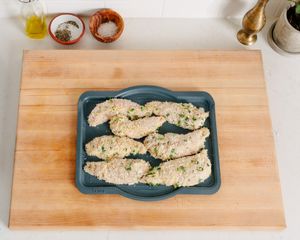 3
Slide metal tray into top oven shelf
Select "Baked Chicken Tenders" on your oven touchscreen and follow instructions.
4
Finish & serve
When your food is done, if desired, season chicken with a pinch of salt and transfer to wire rack to cool slightly.
Arrange chicken on individual plates and serve with your favorite sauce for dipping.