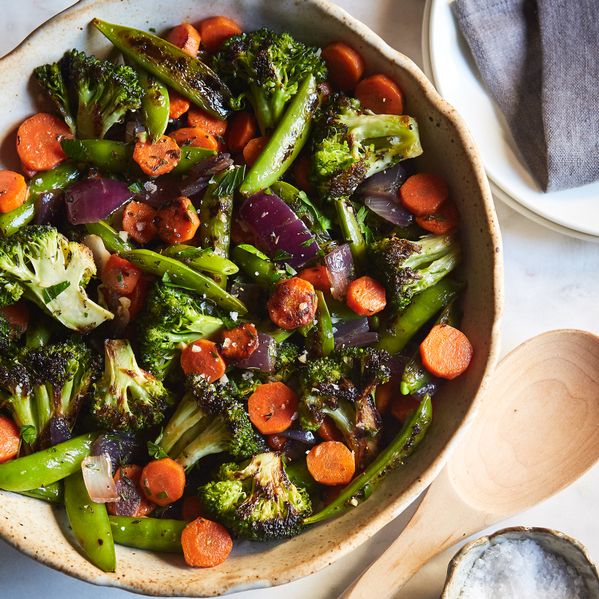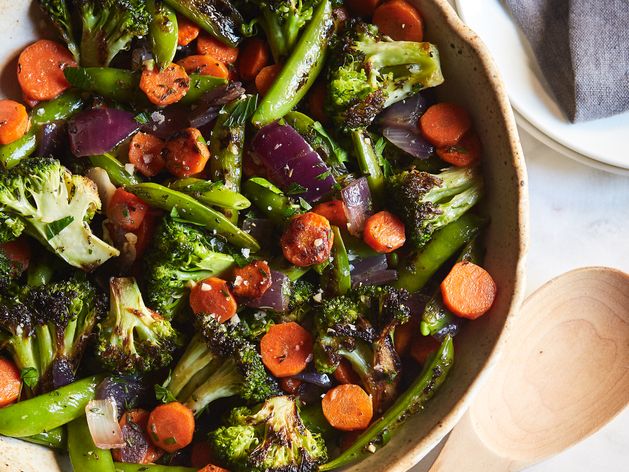 Ingredients
1 red onion
6 oz broccoli florets
6 oz sugar snap peas
6 oz carrot coins
1 clove garlic
½ oz fresh flat-leaf parsley
¼ oz fresh thyme
1 tablespoon plus 1 teaspoon butter
From Your Pantry
cooking oil
kosher salt and black pepper
Equipment
mixing bowl
Brava metal tray
Nutrition Information
Allergens: Milk
Tags
Dinner
Starter
Vegetarian
Kid Friendly
California
Gluten Free
Metal Tray
Side
Sides
Vegetables
Weeknight
Nutrition Information
Allergens: Milk
Keywords
Dinner
Starter
Vegetarian
Kid Friendly
California
Gluten Free
Metal Tray
Side
Sides
Vegetables
Weeknight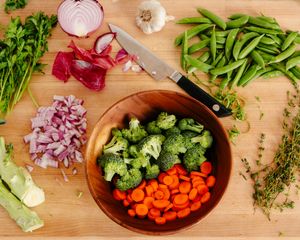 1
Prep vegetables
Peel and cut half of onion into ½-inch dice. You will have half of onion left over.
Cut any large broccoli florets into quarters. Florets should all be about 1 inch wide and tall.
In large bowl, toss together diced onion, broccoli, snap peas, carrots, 1 tablespoon cooking oil and a pinch of salt.
Evenly spread vegetables in Zones 1, 2 and 3 of Brava metal tray.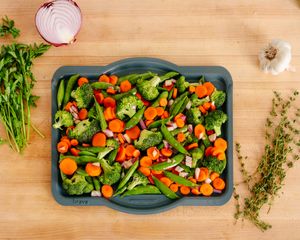 2
Slide metal tray into top oven shelf
Select "Roasted Mixed Vegetables" on your oven touchscreen and follow instructions.
While food cooks, prepare garlic-herb butter.
3
Make garlic-herb butter
Mince garlic.
Remove parsley and half of thyme leaves from stems; coarsely chop leaves together. You will have some thyme left over.
In same large bowl you used in Step 1, combine garlic, chopped herbs and butter.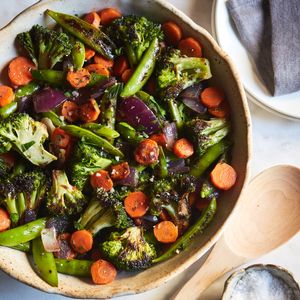 4
Finish vegetables & serve
When your food is done, transfer vegetables to bowl with garlic-herb butter and toss until butter melts. Season to taste with salt and pepper.
Transfer vegetables to serving platter or individual plates.