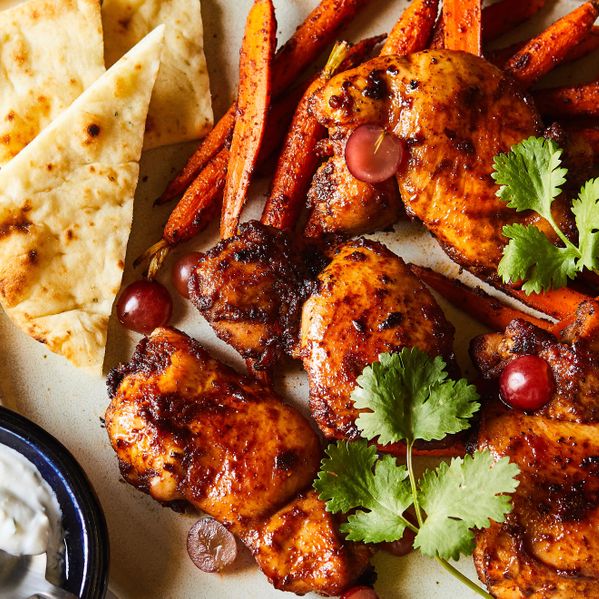 Ingredients
1 tablespoon Moroccan harissa spice
4 bone-in, skin-on chicken thighs (about ¼ lb each)
½ lb baby carrots
1 garlic flatbread
3 oz organic red grapes
¼ oz fresh cilantro
1 clove peeled garlic
1 lemon
¾ cup whole milk Greek yogurt
From Your Pantry
cooking oil
extra-virgin olive oil
kosher salt
Equipment
Brava metal tray
Brava glass tray
Brava TempSensor
mixing bowls
Nutrition Information
Allergens: Milk, Wheat (Gluten)
Tags
Dinner
Kid Friendly
Meal Kit
Chicken
Date Night
Entree
Metal Tray
Middle Eastern
North African
Serves 2
Weeknight
Nutrition Information
Allergens: Milk, Wheat (Gluten)
Keywords
Dinner
Kid Friendly
Meal Kit
Chicken
Date Night
Entree
Metal Tray
Middle Eastern
North African
Serves 2
Weeknight
1
Prep chicken & carrots
In medium bowl, stir together 1 tablespoon cooking oil, 2 teaspoons Moroccan harissa spice and a pinch of salt. Save remaining harissa spice for carrots.
Pat chicken thighs dry with paper towels.
Add chicken to bowl with seasonings and toss to coat.
Place chicken in Zones 1 and 2 of Brava metal tray. Make sure thickest chicken thigh is on left side of Zone 2.
Cut larger carrots in half lengthwise, leaving smaller ones whole.
In another medium bowl, toss together carrots, 1 teaspoon cooking oil, remaining harissa spice and a pinch of salt.
Evenly spread carrots in Zone 3 of metal tray.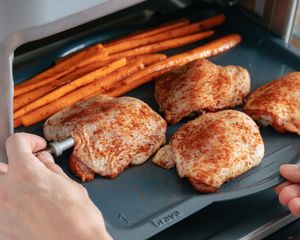 2
Slide metal tray into bottom oven shelf
Select "Moroccan Chicken" on your oven touchscreen and follow instructions.
After plugging in TempSensor, insert it, parallel to bone, through center of chicken thigh. It's okay if TempSensor touches bone.
While food cooks, place flatbreads in Zones 1, 2 and 3 of Brava glass tray.
Next, prepare grapes and yogurt sauce.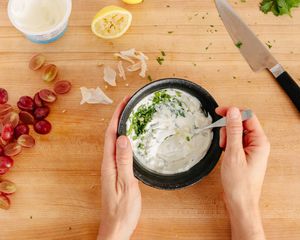 3
Prep grapes; make yogurt sauce
Cut grapes in half and set aside for garnish.
Set aside 2 cilantro sprigs for garnish. Remove leaves from remaining sprigs; discard stems. Coarsely chop leaves.
Mince garlic.
In small bowl, stir together chopped cilantro, garlic, juice of ½ lemon, yogurt and ¼ teaspoon salt. You will have ½ lemon left over.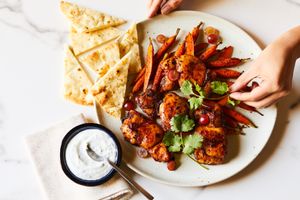 4
Warm flatbreads & serve
When your food is done, remove metal tray from oven, immediately slide glass tray into top oven shelf and close door. The residual heat will warm flatbreads.
Arrange chicken, carrots, grapes and remaining cilantro sprigs on individual plates. If desired, drizzle with extra-virgin olive oil.
Remove flatbreads from oven and cut into wedges. Serve flatbreads and lemon yogurt sauce on the side.