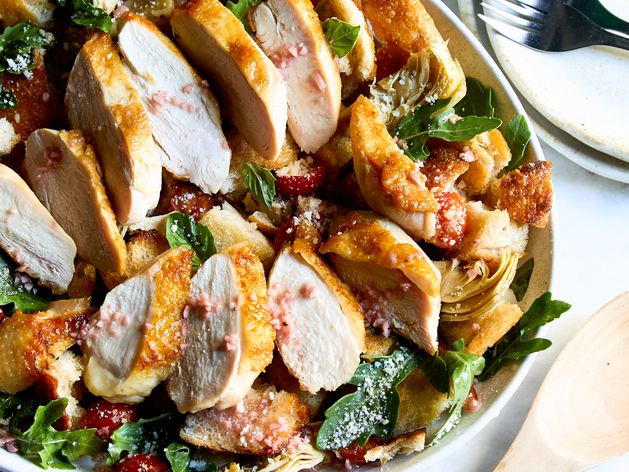 Ingredients
3 slices sourdough bread
4 boneless, skin-on chicken breasts (6 oz each and about 1 inch thick)
2 cloves peeled garlic
¼ cup red wine vinegar
¼ lb marinated artichoke hearts
10 oz organic cherry tomatoes
¼ oz fresh basil
¼ lb arugula
½ cup grated Parmigiano-Reggiano
From Your Pantry
cooking oil
extra-virgin olive oil
kosher salt and black pepper
Equipment
Brava glass tray
Brava metal tray
Brava TempSensor
mixing bowls
Nutrition Information
Allergens: Milk, Wheat (Gluten)
Tags
Chef's Picks
Lunch
Dinner
Meal Kit
California
Chicken
Crowd-pleaser
Entree
Glass Tray
Metal Tray
Serves 4
Two Trays
Weeknight
Nutrition Information
Allergens: Milk, Wheat (Gluten)
Keywords
Chef's Picks
Lunch
Dinner
Meal Kit
California
Chicken
Crowd-pleaser
Entree
Glass Tray
Metal Tray
Serves 4
Two Trays
Weeknight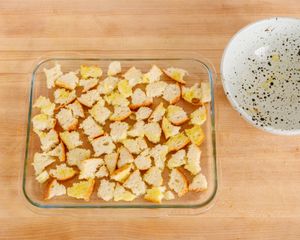 1
Prep bread
Tear or cut sourdough bread into 1-inch pieces. In medium bowl, toss together bread, 1 tablespoon plus 1 teaspoon cooking oil and a pinch of salt.
Evenly spread bread in Zones 1, 2 and 3 of Brava glass tray.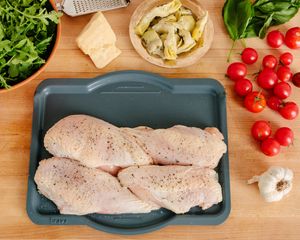 2
Prep chicken
Pat chicken breasts dry with paper towels.
Season chicken on both sides with a few pinches of salt and pepper.
Place chicken, skin side up, in Zones 1, 2 and 3 of Brava metal tray. Make sure thickest chicken breast is on left side of Zone 2.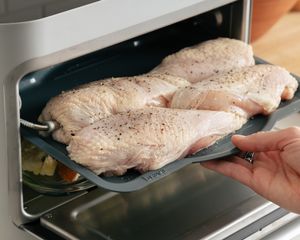 3
Slide glass tray into bottom oven shelf and metal tray into top shelf
Select "Chicken Panzanella" on your oven touchscreen and follow instructions.
After plugging in TempSensor, insert it horizontally through center of chicken breast.
While food cooks, prepare vinaigrette and salad.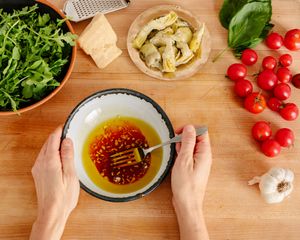 4
Make vinaigrette
Mince garlic.
In small bowl, combine garlic, red wine vinegar, ¼ cup plus 2 tablespoons extra-virgin olive oil and a pinch of salt; stir well.
5
Prep salad
Drain artichoke hearts and cut into bite-size pieces.
Halve cherry tomatoes.
Remove basil leaves from stems; coarsely tear or chop leaves.
In large bowl, toss together artichokes, tomatoes, basil and arugula.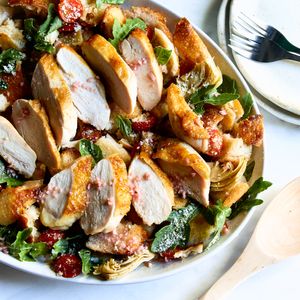 6
Dress salad & serve
When your food is done, cut chicken crosswise into slices.
Add Parmigiano-Reggiano, toasted bread and a few pinches of salt and pepper to salad; toss with vinaigrette to taste. You may have some vinaigrette left over.
Arrange salad on individual plates and top with chicken.