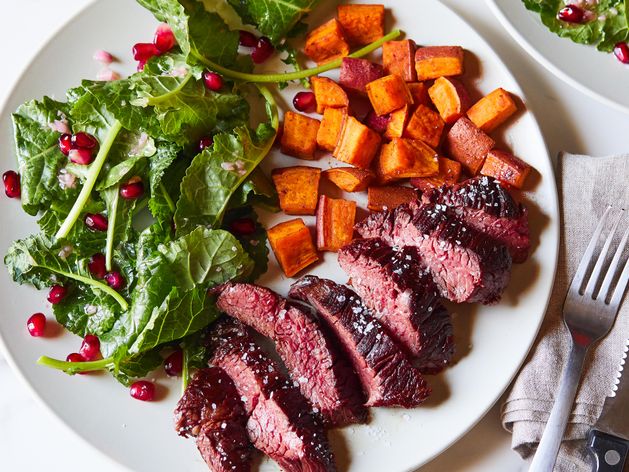 Ingredients
1 or 2 Double R Ranch Signature hanger steaks (about ¾ lb total and 1 inch thick)
1 sweet potato
¼ teaspoon chili powder
¼ teaspoon garlic powder
1 peeled shallot
2 tablespoons red wine vinegar
¼ lb baby kale mix
¼ cup pomegranate seeds
From Your Pantry
cooking oil
extra-virgin olive oil
kosher salt and black pepper
Equipment
Brava metal tray
Brava TempSensor
mixing bowls
Nutrition Information
470 calories per serving
Allergens: None
Tags
Dinner
Kid Friendly
Meal Kit
Beef
California
Dairy Free
Date Night
Entree
Gluten Free
Metal Tray
Paleo
Signature Entree
Weeknight
Nutrition Information
470 calories per serving
Allergens: None
Keywords
Dinner
Kid Friendly
Meal Kit
Beef
California
Dairy Free
Date Night
Entree
Gluten Free
Metal Tray
Paleo
Signature Entree
Weeknight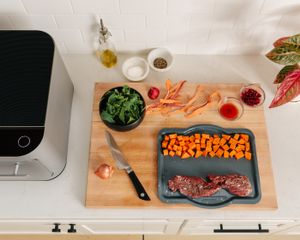 1
Prep steak & sweet potato
Pat steak dry with paper towels. Season steak on both sides with a pinch of salt and pepper.
Place steaks in Zone 1 of metal tray.
If desired, peel sweet potato. Cut sweet potato into 1/2-inch cubes.
In medium bowl, toss together sweet potato, 1 teaspoon cooking oil, chili powder, garlic powder and a pinch of salt.
Evenly spread sweet potato in Zone 3 of metal tray.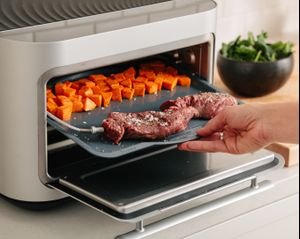 2
Slide metal tray into top oven shelf
Select "Double R Hanger Steak" on your oven touchscreen and follow instructions.
After plugging in TempSensor, insert it horizontally through center steak.
While food cooks, prepare vinaigrette and kale salad.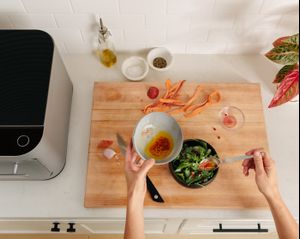 3
Make vinaigrette & kale salad
Finely dice 1 tablespoon shallot. You will have some shallot left over.
In small bowl, combine shallot, red wine vinegar, 2 tablespoons extra-virgin olive oil and a pinch of salt; stir well.
In medium bowl, toss together baby kale mix and pomegranate seeds.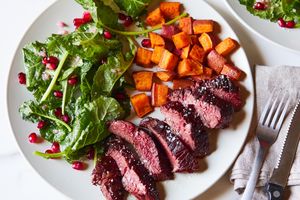 4
Dress salad & serve
When your food is done, slice steak across the grain. This will stop the cooking process and maintain your preferred doneness.
Add half of vinaigrette to salad, season with salt and pepper and toss. Taste and add more vinaigrette, if desired.
Arrange sweet potato and salad on individual plates. Fan out sliced steak on plates.