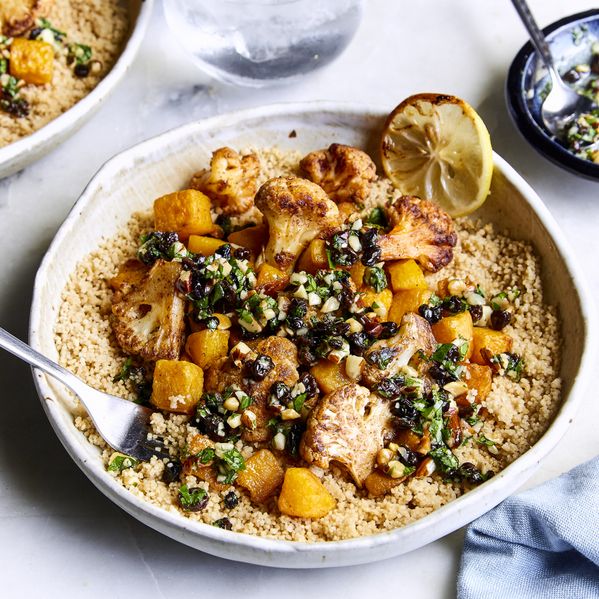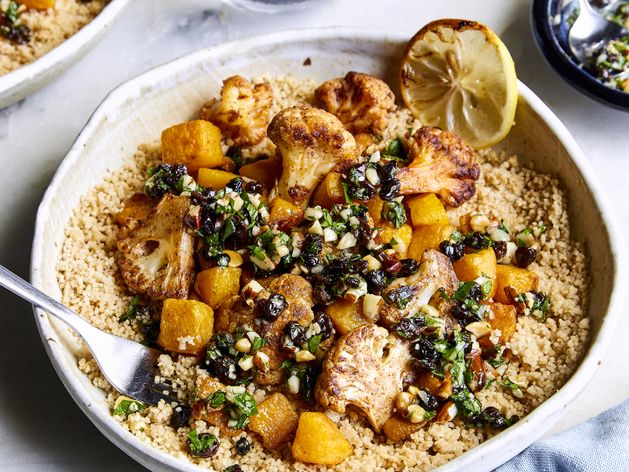 Ingredients
1 ½ cupos whole wheat couscous
1 teaspoon sweet smoked paprika
¾ lb cauliflower florets
1 lb diced butternut squash, 1-inch pieces
½ teaspoon ground cumin
2 lemons
2 cloves peeled garlic
2 oz roasted almonds
1 oz fresh flat-leaf parsley
½ oz fresh mint
1 ½ oz currants
From Your Pantry
cooking oil
extra-virgin olive oil
kosher salt and black pepper
Equipment
medium saucepan with lid
mixing bowls
Brava glass tray
Brava metal tray
Nutrition Information
Allergens: Tree nuts, Wheat (Gluten)
Tags
Dinner
Vegetarian
Meal Kit
Crowd-pleaser
Dairy Free
Entree
Fall
Metal Tray
Middle Eastern
Serves 4
Signature Entree
Two Trays
Vegan
Vegetables
Weeknight
Nutrition Information
Allergens: Tree nuts, Wheat (Gluten)
Keywords
Dinner
Vegetarian
Meal Kit
Crowd-pleaser
Dairy Free
Entree
Fall
Metal Tray
Middle Eastern
Serves 4
Signature Entree
Two Trays
Vegan
Vegetables
Weeknight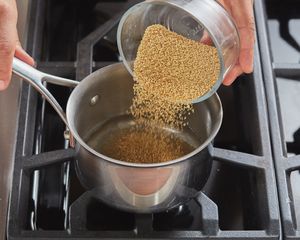 1
Cook couscous
In medium saucepan, bring 2 cups water and 1 teaspoon salt to a boil, then remove from heat.
Immediately add couscous and stir to combine. Cover with tight-fitting lid and let stand at room temperature for 5 minutes to finish cooking.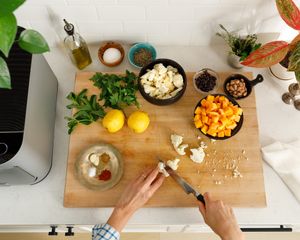 2
Prep cauliflower
In large bowl, stir together smoked paprika, 1 teaspoon salt and 2 teaspoons cooking oil.
Cut cauliflower into bite-size pieces.
Add cauliflower to bowl with paprika oil and toss to coat.
Evenly spread cauliflower in Zones 1, 2 and 3 of Brava glass tray.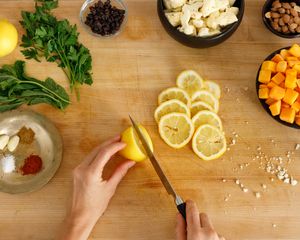 3
Prep butternut squash
In same bowl, toss together butternut squash, cumin, 2 teaspoons cooking oil and a few pinches of salt.
Evenly spread squash in Zones 1, 2 and 3 of Brava metal tray.
Cut 8 thin lemon slices (about 1 whole lemon) and place on top of squash. Save remaining lemon for salsa verde.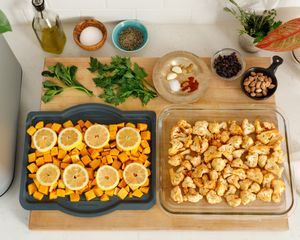 4
Slide glass tray into bottom oven shelf and metal tray into top shelf
Select "Roasted Veggie and Couscous" on your oven touchscreen and follow instructions.
While food cooks, prepare salsa verde.
5
Make salsa verde
Mince garlic.
Coarsely chop almonds.
Remove parsley and mint leaves from stems; finely chop leaves together.
In small bowl, stir together juice from remaining whole lemon, garlic, almonds, parsley, mint, currants, ½ cup extra-virgin olive oil and a few pinches of salt.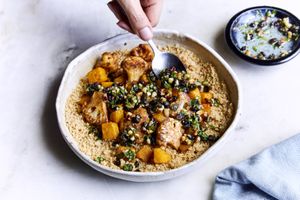 6
Serve
When your food is done, fluff couscous with fork.
Divide couscous between individual plates, then spoon cauliflower and squash on top.
Spoon salsa verde over vegetables and couscous.
If desired, drizzle with extra-virgin olive oil, add a few grindings of pepper and top with roasted lemon slices.