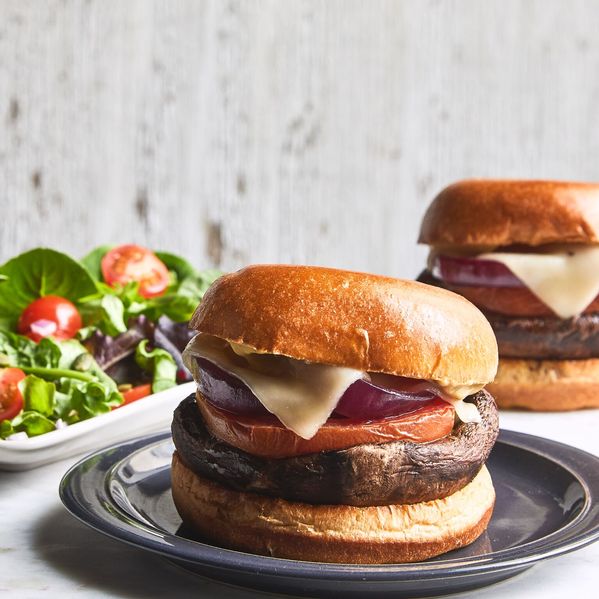 Ingredients
4 portobello mushrooms
1 red onion
¼ cup sherry vinegar
3 tablespoons Dijon mustard
1 beefsteak tomato
5 oz organic cherry tomatoes
¼ lb spring lettuce mix
¼ cup pumpkin seeds
4 slices fontina
4 hamburger buns
From Your Pantry
extra-virgin olive oil
cooking oil
kosher salt and black pepper
Equipment
Brava metal tray
Brava glass tray
mixing bowls
Nutrition Information
730 calories per serving
Allergens: Milk, Wheat (Gluten)
Tags
Chef's Picks
Lunch
Dinner
Vegetarian
Meal Kit
California
Crowd-pleaser
Glass Tray
Metal Tray
Serves 4
Two Trays
Weeknight
Nutrition Information
730 calories per serving
Allergens: Milk, Wheat (Gluten)
Keywords
Chef's Picks
Lunch
Dinner
Vegetarian
Meal Kit
California
Crowd-pleaser
Glass Tray
Metal Tray
Serves 4
Two Trays
Weeknight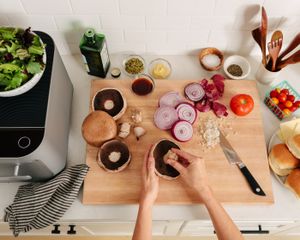 1
Prep portobellos & onion
Remove stems from portobellos and scrape out gills with a spoon. Wipe away any soil from mushroom caps with a damp paper towel.
Place mushrooms, stemmed side up, in Zones 1 and 3 of Brava metal tray.
Peel red onion and cut four ¼-inch-thick slices.
Place onion slices in Zones 2 and 3 of Brava glass tray.
Finely dice 2 tablespoons of remaining onion and set aside for vinaigrette. You will have some onion left over.
2
Prep vinaigrette & tomato
In small bowl, combine sherry vinegar, 1 teaspoon Dijon mustard, diced onion, ½ cup extra-virgin olive oil and a pinch of salt and pepper; stir well. Save remaining mustard for serving.
Pour 1½ teaspoons vinaigrette into each mushroom cavity. Save remaining vinaigrette for salad.
Season mushrooms with a few pinches of salt.
Cut four ½-inch-thick slices of beefsteak tomato. You will have some tomato left over.
Place tomato slices in Zone 1 of glass tray.
Drizzle tomato and onion slices with 2 teaspoons cooking oil and season with a few pinches of salt.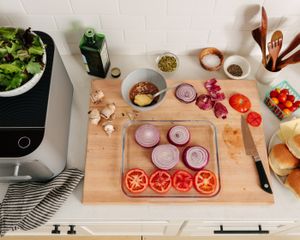 3
Slide metal tray into top oven shelf and glass tray into bottom shelf
Select "Portobello Burger" on your oven touchscreen and follow instructions.
While food cooks, prepare salad.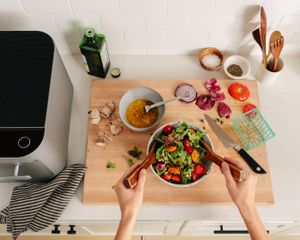 4
Make salad
Cut cherry tomatoes in half.
In large bowl, toss together spring lettuce mix, cherry tomatoes and pumpkin seeds.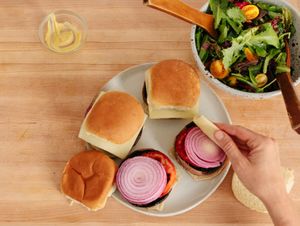 5
Assemble burgers
When your food is done, place a slice of roasted tomato and onion inside each mushroom cavity, then top with a slice of fontina.
If desired, spread remaining Dijon mustard on buns.
When fontina has melted (about 1 minute), place a mushroom on each bottom bun and cover with top buns.
6
Dress salad & serve
Season salad with a pinch of salt and pepper, then toss with remaining vinaigrette to taste. You may have some vinaigrette left over.
Divide salad between individual plates and add burgers.