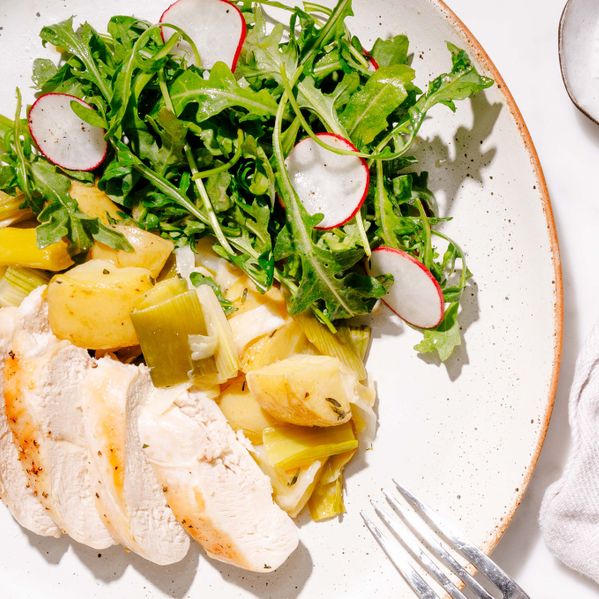 Ingredients
2 leeks, white and pale green parts only, root end and tough outer layer removed
3 cups diced Yukon Gold potatoes (1-inch pieces)
2 boneless, skinless chicken breasts
3 tablespoons champagne vinegar, white wine vinegar or apple cider vinegar
2 teaspoons Dijon mustard
3 radishes, trimmed and thinly sliced
3 cups arugula
2 tablespoons butter, room temperature
2 teaspoons chopped fresh thyme
From Your Pantry
cooking oil
extra-virgin olive oil
kosher salt and black pepper
Equipment
mixing bowls
Brava metal tray
Brava TempSensor
Nutrition Information
Allergens: Milk
Tags
Dinner
Chicken
Dairy Free
Gluten Free
Keto
Mediterranean
Metal Tray
Serves 2
Signature Entree
Weeknight
Nutrition Information
Allergens: Milk
Keywords
Dinner
Chicken
Dairy Free
Gluten Free
Keto
Mediterranean
Metal Tray
Serves 2
Signature Entree
Weeknight
1
Prep leeks & potatoes
Cut leeks in half lengthwise. Place, cut side down, on cutting board and cut crosswise into 1-inch-thick slices.
In medium bowl, toss together leeks, potatoes, 1 tablespoon cooking oil and a pinch of salt.
Evenly spread leeks and potatoes in Zones 2 and 3 of Brava metal tray.
2
Prep chicken
Pat chicken breasts dry with paper towels.
Season chicken on both sides with a pinch of salt and pepper.
Place chicken in Zone 1 of metal tray. Make sure thickest chicken breast is on left side of Zone 1.
3
Roast chicken & vegetables
Slide metal tray into top oven shelf.
Select "Chicken Breasts with Potatoes and Leeks" on your oven touchscreen and follow instructions.
After plugging in TempSensor, insert it horizontally through center of chicken breast.
While food cooks, prepare vinaigrette and salad.
4
Make vinaigrette
In small bowl, combine 2 tablespoons of the Champagne vinegar, Dijon mustard, ¼ cup extra-virgin olive oil and a pinch of salt and pepper; stir well.
5
Prep salad
In medium bowl, toss together arugula and radishes.
6
Slice chicken & finish vegetables
When your food is done, cut chicken crosswise into slices.
Transfer leeks and potatoes to medium bowl. Add remaining 1 tablespoon vinegar, butter, thyme and ½ teaspoon salt and stir until butter melts and forms a rich glaze.
7
Toss salad & serve
Add half of vinaigrette to salad, season with salt and pepper and toss. Taste and add more vinaigrette, if desired.
Arrange chicken, leeks, potatoes, and salad on individual plates. If desired, drizzle remaining vinaigrette over chicken.