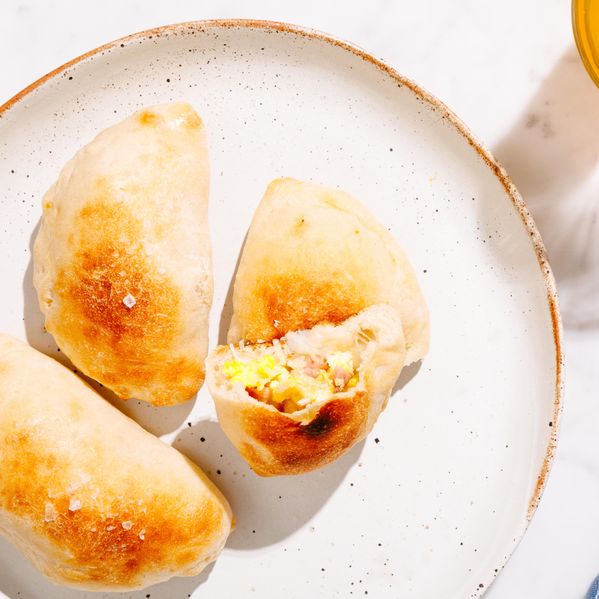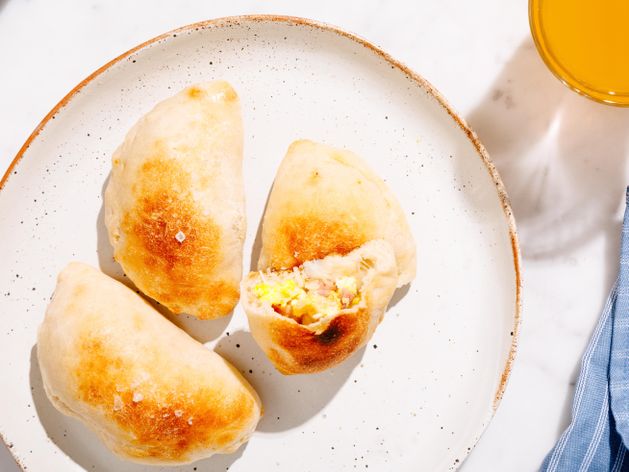 Ingredients
½ lb pizza dough
½ cup scrambled eggs (2 eggs)
¼ cup diced ham (¼-inch pieces)
½ cup grated cheese, such as cheddar or mozzarella
From Your Pantry
all purpose flour
extra-virgin olive oil
Equipment
rolling pin
pastry brush
Brava metal tray
Nutrition Information
Allergens: Eggs, Wheat (Gluten), Milk
Tags
Breakfast
Kid Friendly
Crowd-pleaser
Italian
Metal Tray
Nutrition Information
Allergens: Eggs, Wheat (Gluten), Milk
Keywords
Breakfast
Kid Friendly
Crowd-pleaser
Italian
Metal Tray
1
Roll out pizza dough
Divide pizza dough into 4 equal pieces. On lightly floured surface, roll out each into a 5-inch round, sprinkling with more flour as needed to prevent sticking.
2
Assemble calzones
For each calzone, place 2 tablespoons scrambled eggs, 1 tablespoon ham, and 2 tablespoons cheese on half of dough round, leaving ½-inch border uncovered.
Fold uncovered dough half over filling and crimp edges together.
Brush tops with olive oil and sprinkle with more cheese, if desired.
Place calzones in Zones 1, 2, and 3 of Brava metal tray.
3
Bake calzones
Slide metal tray into bottom oven shelf.
Select "Breakfast Calzones" on your oven touchscreen and follow instructions.
4
Serve
When your food is done, arrange calzones on serving platter or individual plates.