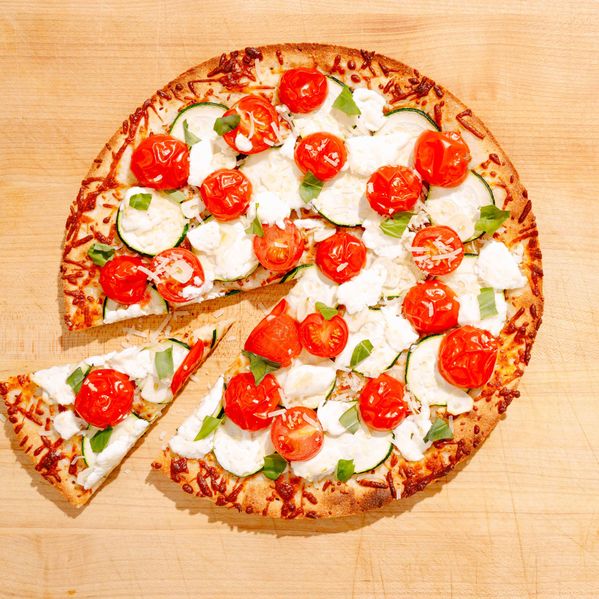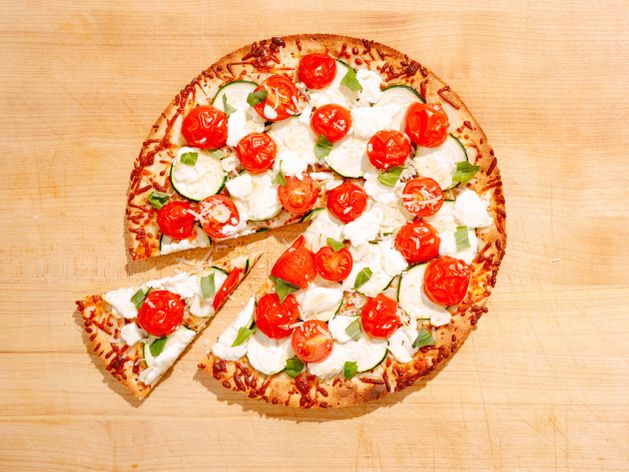 Ingredients
2 par-baked pizza crusts (10-11 inches round)
2 cloves garlic, thinly sliced
1 cup thinly sliced zucchini
1 cup cherry tomatoes, halved
1-2 sprigs fresh basil, roughly torn or chopped
¼ lb fresh goat cheese, crumbled
¼ cup grated Parmigiano-Reggiano
From Your Pantry
extra virgin olive oil
kosher salt and black pepper
Equipment
Brava metal tray
pastry brush (optional)
Nutrition Information
Allergens: Wheat (Gluten), Milk
Tags
Dinner
Vegetarian
Kid Friendly
Crowd-pleaser
Italian
Metal Tray
Pizza
Weeknight
Nutrition Information
Allergens: Wheat (Gluten), Milk
Keywords
Dinner
Vegetarian
Kid Friendly
Crowd-pleaser
Italian
Metal Tray
Pizza
Weeknight
1
Prep pizza crust
You can bake only 1 pizza at a time. If you are preparing 2, assemble both (assemble second pizza on a cutting board); then bake one after the other, letting metal tray and oven cool for 10 minutes in between. If you are baking only 1 pizza, oil just 1 crust and prepare half of the ingredients.
Place 1 pizza crust on Brava metal tray. Using pastry brush or your hands, evenly spread 1 tablespoon extra-virgin olive oil over entire crust.
Season crust with a pinch of salt and pepper.
2
Assemble pizza
Evenly arrange half of garlic, zucchini, tomatoes and basil on crust, leaving ½ inch uncovered around edges.
Evenly sprinkle half of goat cheese on top.
3
Bake pizza
Slide metal tray into bottom oven shelf.
Select "Zucchini, Tomato, and Goat Cheese Pizza" on your oven touchscreen and follow instructions.
4
Serve
When your food is done, transfer pizza to cutting board. If you want to bake second pizza, let metal tray and oven cool for about 10 minutes before proceeding.
Sprinkle baked pizza with half of Parmigiano-Reggiano and drizzle with 1 tablespoon extra-virgin olive oil.
Cut pizza into slices.