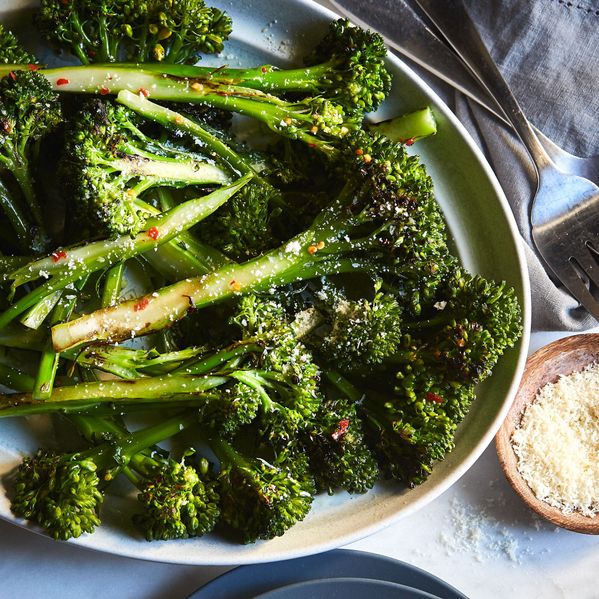 Ingredients
1 lb baby broccoli
1 lemon
⅛ teaspoon red pepper flakes
¼ cup grated Parmigiano-Reggiano
From Your Pantry
cooking oil
extra-virgin olive oil
kosher salt
Equipment
mixing bowl
Brava metal tray
Nutrition Information
Allergens: Milk
Tags
Chef's Picks
Dinner
Starter
Vegetarian
Kid Friendly
Appetizer
Gluten Free
Italian
Keto
Mediterranean
Metal Tray
Paleo
Serves 4
Side
Sides
Weeknight
Nutrition Information
Allergens: Milk
Keywords
Chef's Picks
Dinner
Starter
Vegetarian
Kid Friendly
Appetizer
Gluten Free
Italian
Keto
Mediterranean
Metal Tray
Paleo
Serves 4
Side
Sides
Weeknight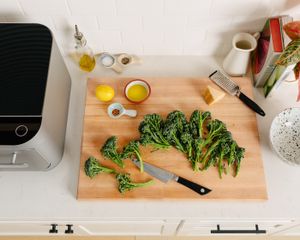 1
Prep baby broccoli
Trim bottom ½ inch off baby broccoli stems and discard. If stalks are wider than your pinky finger, cut in half lengthwise.
In large bowl, toss together baby broccoli, 2 tablespoons cooking oil and a pinch of salt.
Place baby broccoli in Zones 1, 2 and 3 of Brava metal tray.
Pro Tip: Be sure to arrange baby broccoli in a single layer; if stacked too high, it will burn. Place broccoli florets toward the outside edge of the tray, with stems facing the middle.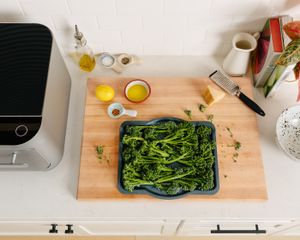 2
Slide metal tray into top oven shelf
Select "Roasted Baby Broccoli" on your oven touchscreen and follow instructions.
While food cooks, prepare vinaigrette.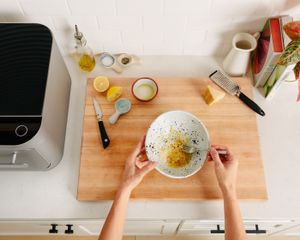 3
Make vinaigrette
Squeeze juice of ½ lemon into same large bowl you used in Step 1; save remaining lemon half for finishing the dish.
Add red pepper flakes and 2 teaspoons extra-virgin olive oil; stir well. Stir in half of Parmigiano-Reggiano; save the rest for finishing the dish.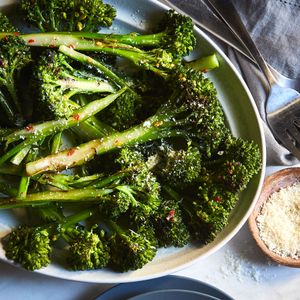 4
Finish baby broccoli & serve
When your food is done, transfer baby broccoli to bowl with vinaigrette and toss to coat. Taste and season with salt or more lemon juice, if desired.
Sprinkle baby broccoli with remaining Parmigiano-Reggiano.