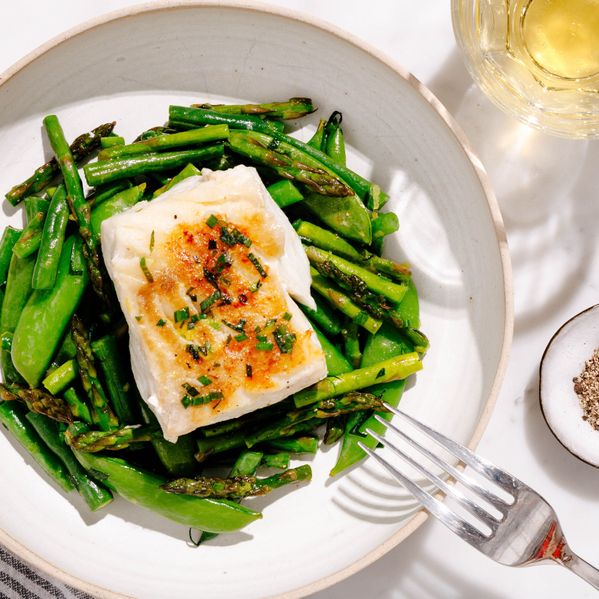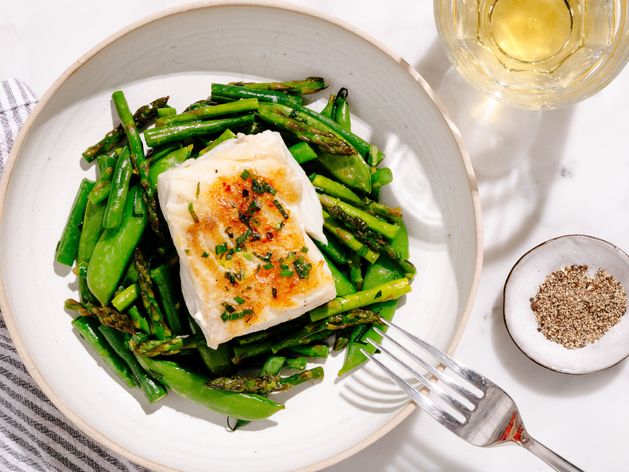 Ingredients
2 halibut fillets (about 1 inch thick)
1 cup snap peas
1 cup chopped asparagus (2-inch pieces, bottom 2 inches trimmed)
1 cup green beans, stem ends trimmed and cut into 2-inch pieces
1 tablespoon chopped fresh tarragon
1 tablespoons chopped fresh chives
¼ cup butter
Zest of ½ lemon
From Your Pantry
cooking oil
kosher salt and black pepper
Equipment
Brava glass tray
mixing bowls
Nutrition Information
Allergens: Fish, Milk
Tags
Dinner
Kid Friendly
Date Night
Fish
Glass Tray
Gluten Free
Keto
Seafood
Signature Entree
Weekend
Weeknight
Year Round
Nutrition Information
Allergens: Fish, Milk
Keywords
Dinner
Kid Friendly
Date Night
Fish
Glass Tray
Gluten Free
Keto
Seafood
Signature Entree
Weekend
Weeknight
Year Round
1
Prep halibut
Let butter stand at room temperature for 15-30 minutes to soften.
Spread 2 teaspoons of butter on Zone 1 of Brava glass tray. Any uncovered butter may burn, so spread only enough for the fish to cover it.
Pat halibut dry with paper towels.
Season fish on both sides with a pinch of salt.
Place halibut on top of butter.
2
Prep vegetables
In medium bowl, toss together snap peas, asparagus, green beans, 1 tablespoon cooking oil and a pinch of salt.
Evenly spread vegetables in Zone 2 and 3 of glass tray.
3
Roast halibut & vegetables
Slide glass tray into bottom oven shelf.
Select "Halibut and Spring Vegetables" on your oven touchscreen and follow instructions.
While food cooks, prepare herb butter.
4
Make herb butter
In medium bowl, combine remaining butter, tarragon, chives, lemon zest and a pinch of salt and pepper. Stir well until blended.
5
Finish & serve
When your food is done, transfer vegetables to bowl with herb butter and toss to coat evenly.
Arrange vegetables on individual plates. Place halibut on top of vegetables.