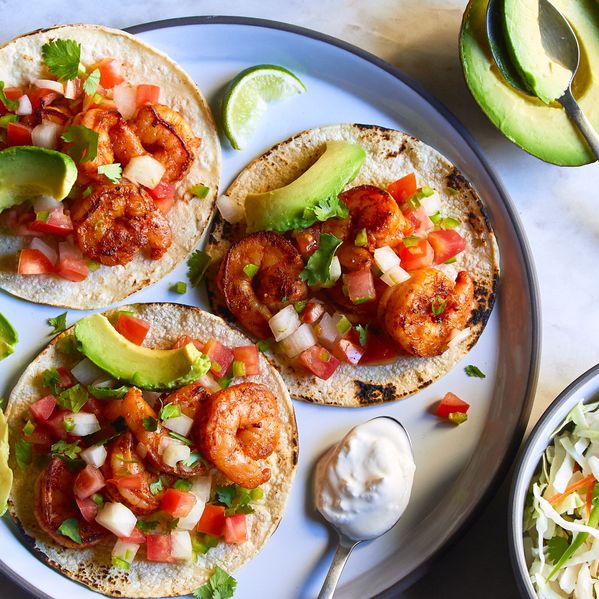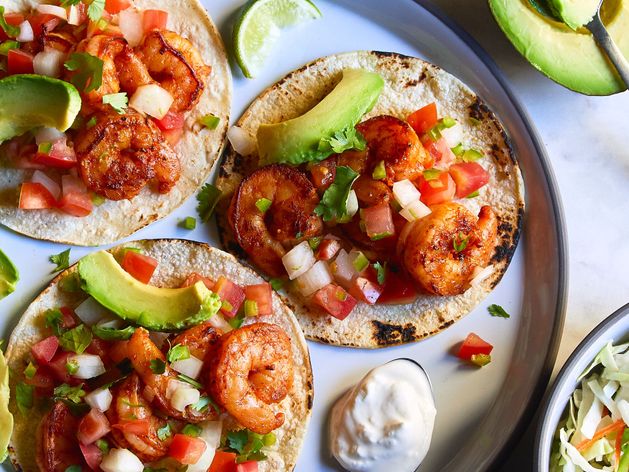 Ingredients
4 limes
1 tablespoon + 1 teaspoon chipotle powder
1 ¼ lb peeled and deveined shrimp (30-38 shrimp)
2 jalapeño peppers
1 oz fresh cilantro
¾ lb coleslaw mix
8 organic yellow corn tortillas
1 yellow onion
2 roma tomatoes
1 avocado
¼ cup sour cream
From Your Pantry
cooking oil
extra-virgin olive oil
kosher salt and black pepper
Equipment
mixing bowls
Aluminum foil
Brava metal tray
Brava glass tray
Nutrition Information
500 calories per serving
Allergens: Shellfish, Milk
Tags
Lunch
Dinner
Kid Friendly
Meal Kit
Crowd-pleaser
Glass Tray
Gluten Free
Metal Tray
Mexican
Seafood
Serves 4
Shellfish
Summer
Two Trays
Weeknight
Nutrition Information
500 calories per serving
Allergens: Shellfish, Milk
Keywords
Lunch
Dinner
Kid Friendly
Meal Kit
Crowd-pleaser
Glass Tray
Gluten Free
Metal Tray
Mexican
Seafood
Serves 4
Shellfish
Summer
Two Trays
Weeknight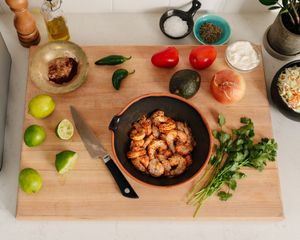 1
Marinate shrimp
In medium bowl, stir together juice of 1 lime, chipotle powder, 2 teaspoons cooking oil and a few pinches of salt and pepper.
Pat shrimp dry with paper towels. Add shrimp to bowl with chipotle mixture and toss to coat.
Marinate for 5–10 minutes.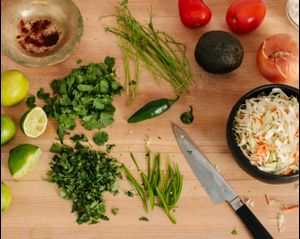 2
Prep coleslaw
Remove jalapeño stems, halve jalapeños lengthwise and remove seeds. Thinly slice 1 jalapeño for coleslaw; finely chop remaining jalapeño and set aside for pico de gallo. Use less if you don't like it spicy.
Chop half of cilantro (stems are delicious, too!). Save remaining cilantro for pico de gallo
In large bowl, toss together coleslaw mix, sliced jalapeño, chopped cilantro, juice of 1 lime, 2 tablespoons extra-virgin olive oil and a pinch of salt.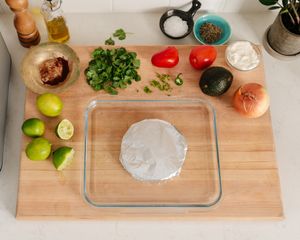 3
Prep shrimp & tortillas
Drain shrimp and evenly spread shrimp in Zones 1, 2 and 3 of Brava metal tray.
Stack corn tortillas and wrap in foil. Place in center of Brava glass tray.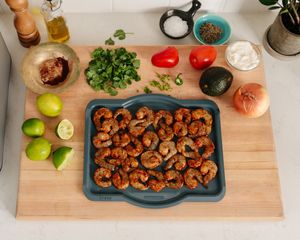 4
Slide metal tray into top oven shelf and glass tray into bottom shelf
Select "Chipotle Shrimp Tacos" on your oven touchscreen and follow instructions.
While food cooks, prepare pico de gallo.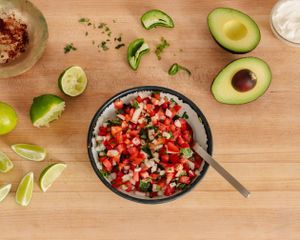 5
Make pico de gallo
Peel and cut half of onion into ¼-inch dice. You will have half of onion left over.
Cut tomatoes into ¼-inch dice.
Chop remaining cilantro.
In medium bowl, stir together diced onion, tomatoes, chopped jalapeño, cilantro, juice of 1 lime and a pinch of salt.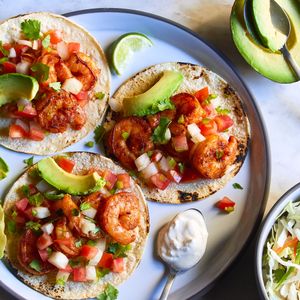 6
Assemble tacos & serve
When your food is done, remove tails from shrimp. If desired, cut shrimp into bite-size pieces.
Place tortillas on individual plates and top with shrimp and pico de gallo.
Halve avocado, remove pit and scoop a few thin pieces onto each taco. You may have some avocado left over.
Cut remaining lime into wedges.
Drizzle tacos with sour cream.
Serve tacos with coleslaw and lime wedges.