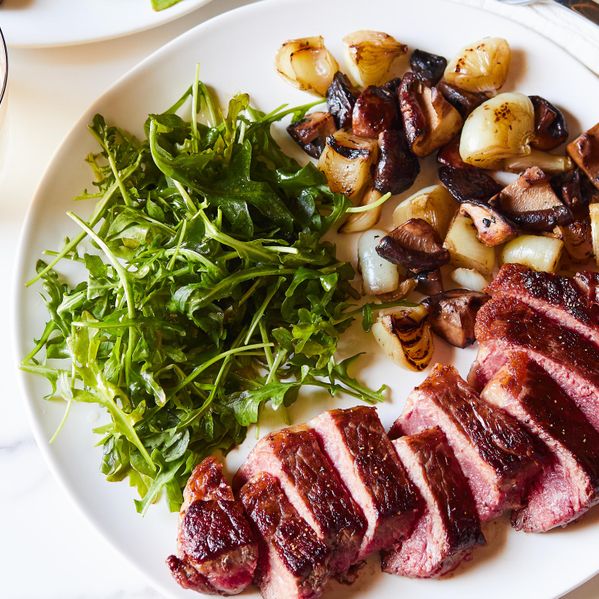 Ingredients
¼ oz fresh thyme
1 clove peeled garlic
¼ lb cremini mushrooms
2 oz shiitake mushrooms
6 ½ oz peeled cipollini onions
1 Double R Ranch Signature NY Steak (about ¾ lb and 1 ½ inches thick)
2 tablespoons sherry vinegar
2 tablespoons butter
3 oz baby arugula
From Your Pantry
cooking oil
extra-virgin olive oil
kosher salt and black pepper
Equipment
Brava metal tray
Brava TempSensor
mixing bowls
Nutrition Information
630 calories per serving
Allergens: Milk
Tags
Chef's Picks
Dinner
Kid Friendly
Meal Kit
All American
Beef
Date Night
Fall
French
Gluten Free
Keto
Metal Tray
Paleo
Serves 2
Signature Entree
Weekend
Weeknight
Nutrition Information
630 calories per serving
Allergens: Milk
Keywords
Chef's Picks
Dinner
Kid Friendly
Meal Kit
All American
Beef
Date Night
Fall
French
Gluten Free
Keto
Metal Tray
Paleo
Serves 2
Signature Entree
Weekend
Weeknight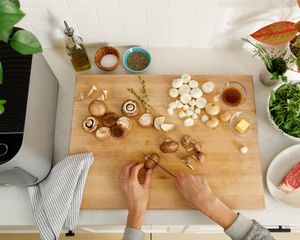 1
Prep mushrooms
Remove half of thyme leaves from 1 sprig; coarsely chop leaves.
Mince garlic.
Cut cremini mushrooms into 1-inch pieces. Remove and discard shiitake stems. Cut shiitake caps into 1-inch pieces.
In medium bowl, toss together mushrooms, garlic, half of chopped thyme, 1 tablespoon cooking oil and a pinch of salt.
Evenly spread mushrooms in Zone 3 of Brava metal tray.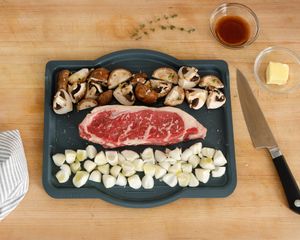 2
Prep onions & steak
Trim root end and quarter cipollini onions. Gently separate onion layers.
In same bowl, toss together onions, 1 teaspoon cooking oil and a pinch of salt.
Evenly spread onions in Zone 1 of metal tray.
Pat steak dry with paper towels. Season steak on both sides with a pinch of salt and pepper.
Place steak in Zone 2 of metal tray.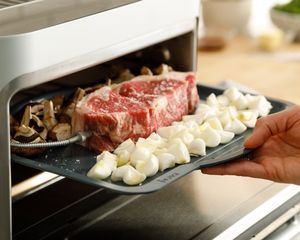 3
Slide metal tray into top oven shelf
Select "NY Steak and Mushrooms" on your oven touchscreen and follow instructions.
After plugging in TempSensor, insert it horizontally through center of thickest part of steak.
While food cooks, prepare vinaigrette.
4
Make vinaigrette
In small bowl, combine 1 tablespoon plus 2 teaspoons sherry vinegar, 2 tablespoons extra-virgin olive oil and a pinch of salt; stir well. Save 1 teaspoon vinegar for glazing mushrooms and onions.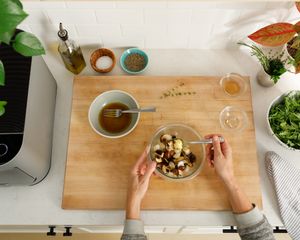 5
Glaze mushrooms & onions
When your food is done, slice steak across the grain. This will stop the cooking process and maintain your preferred doneness.
Sprinkle steak with remaining chopped thyme.
Transfer mushrooms and onions to medium bowl. Add butter and remaining 1 teaspoon vinegar and stir until butter melts and forms a rich glaze.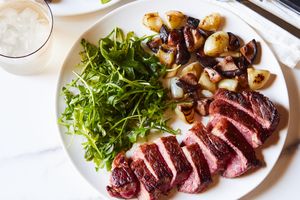 6
Dress salad & serve
In medium bowl, toss arugula with half of vinaigrette and a pinch of salt. Taste and add more vinaigrette, if desired.
Divide salad between individual plates. You may have some vinaigrette left over.
Arrange steak, mushrooms and onions on plates. Drizzle with some of remaining vinaigrette, if desired.