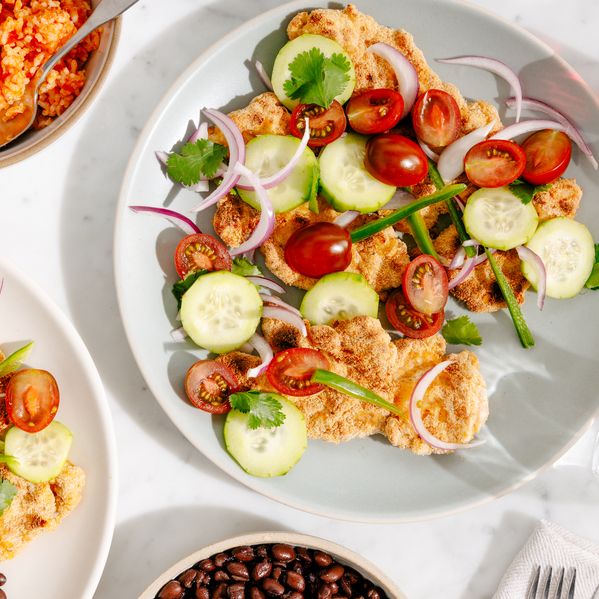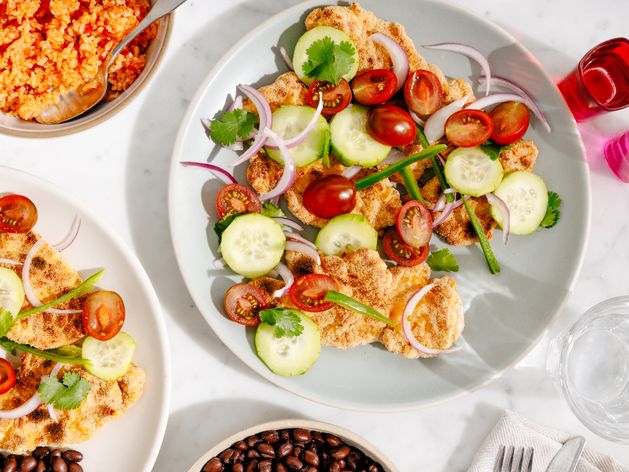 Ingredients
¾ lb chicken tenders
1 cup milk (optional)
1 teaspoon cayenne pepper (optional)
1 cup all-purpose flour
3 eggs
1 cup dried bread crumbs
1 teaspoon onion powder
1 cup halved cherry tomatoes
1 cucumber, peeled and thinly sliced
1 jalapeño, seeded and thinly sliced (optional)
1 cup thinly sliced red onion
1 tablespoon chopped fresh cilantro
Juice of 1 lime
Mexican rice and beans for serving (optional)
From Your Pantry
cooking oil
kosher salt
flaky sea salt (optional)
Equipment
plastic wrap
meat mallet or wine bottle
medium mixing bowls
medium mixing bowls or shallow baking dishes
Brava metal tray
Nutrition Information
Allergens: Milk, Eggs, Wheat (Gluten)
Tags
Chef's Picks
Dinner
Kid Friendly
Chicken
Crowd-pleaser
Metal Tray
Mexican
Serves 2
Weekend
Weeknight
Year Round
Nutrition Information
Allergens: Milk, Eggs, Wheat (Gluten)
Keywords
Chef's Picks
Dinner
Kid Friendly
Chicken
Crowd-pleaser
Metal Tray
Mexican
Serves 2
Weekend
Weeknight
Year Round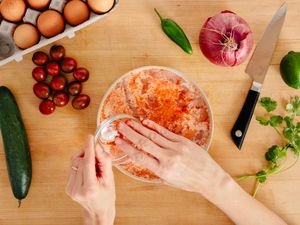 1
Prep chicken
Place chicken tenders between 2 sheets of plastic wrap. Using meat mallet or full wine bottle, gently pound chicken until it is ¼ inch thick all over.
If desired, in medium bowl, stir together milk, cayenne and 1 teaspoon kosher salt. Add chicken and stir to coat evenly. Let stand at room temperature for 5–20 minutes, or cover and refrigerate for up to 24 hours.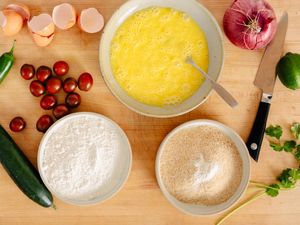 2
Prep breading mixtures
Place flour in first medium bowl.
Crack eggs into second medium bowl and lightly beat with fork.
In third medium bowl, combine bread crumbs and onion powder; stir well.
3
Bread chicken
Pro Tip: When breading chicken, use one hand for wet ingredients and the other for dry to prevent messy, sticky fingers.
If you marinated chicken, remove it from marinade. Pat marinated or unmarinated chicken dry with paper towels.
Working in batches, add chicken to bowl with flour and coat evenly; shake off excess.
Dip chicken into eggs and coat completely; let excess drip off.
Add chicken to bread crumb mixture and coat evenly; shake off excess. Using your hands, gently press breading into chicken to ensure it adheres.
4
Bake chicken
Evenly spread 1 tablespoon cooking oil on Zones 1, 2 and 3 of Brava metal tray.
Evenly spread chicken in Zones 1, 2 and 3 of metal tray and drizzle with 1 tablespoon cooking oil.
Slide metal tray into top oven shelf.
Select "Crispy Mexican Chicken Cutlets" on your oven touchscreen and follow instructions.
While food cooks, prepare salad.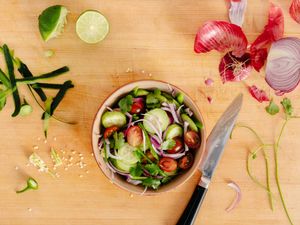 5
Make salad & serve
In medium bowl, toss together tomatoes, cucumber, jalapeño (if desired), onion, cilantro, lime juice and 2 teaspoons kosher salt. Omit jalapeño if you don't like it spicy.
When your food is done, arrange chicken on individual plates and season with a pinch of flaky sea salt.
Spoon salad on top of chicken.
If desired, serve with Mexican rice and beans.