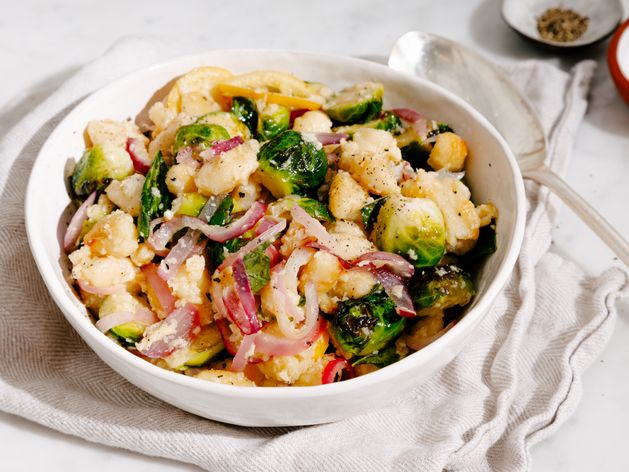 Ingredients
1 package (12–16 oz) gnocchi
2 Meyer lemons or regular lemons
2 cups chopped Brussels sprouts (1-inch pieces or small ones halved, large ones quartered)
1 small red onion, cut into ¼-inch-thick slices
¼ cup grated Parmigiano-Reggiano
¼ cup thinly sliced fresh basil
From Your Pantry
cooking oil
butter
kosher salt and black pepper
Equipment
medium saucepan
colander
mixing bowl
Brava metal tray
Nutrition Information
Allergens: Wheat (Gluten), Milk
Tags
Dinner
Vegetarian
Kid Friendly
California
Date Night
Entree
Fall
Italian
Metal Tray
Pasta
Serves 4
Signature Entree
Weekend
Weeknight
Winter
Year Round
Nutrition Information
Allergens: Wheat (Gluten), Milk
Keywords
Dinner
Vegetarian
Kid Friendly
California
Date Night
Entree
Fall
Italian
Metal Tray
Pasta
Serves 4
Signature Entree
Weekend
Weeknight
Winter
Year Round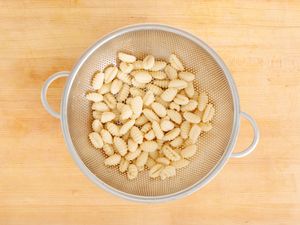 1
Boil gnocchi
In medium saucepan over high heat, boil gnocchi in salted water according to package instructions.
Drain gnocchi in colander and transfer to medium bowl.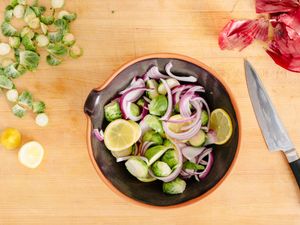 2
Prep gnocchi, lemon & vegetables
Cut 1 Meyer lemon into ¼-inch-thick slices; discard seeds. Add lemon slices, Brussels sprouts, red onion, 1 tablespoon cooking oil and a pinch of salt and pepper to bowl with gnocchi and toss to combine.
Evenly spread gnocchi mixture in Zones 1, 2 and 3 of Brava metal tray.
3
Roast gnocchi
Slide metal tray into top oven shelf.
Select "Roasted Gnocchi" on your oven touchscreen and follow instructions.
4
Finish & serve
Juice remaining lemon.
When your food is done, return gnocchi to same medium bowl you used in Step 2. Add lemon juice, Parmigiano-Reggiano, basil, 2 tablespoons butter and a pinch of salt and pepper and toss to combine.
Arrange gnocchi on serving platter.