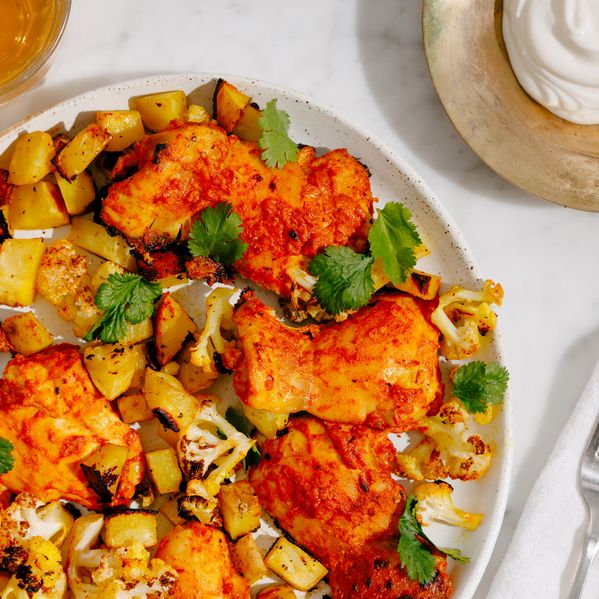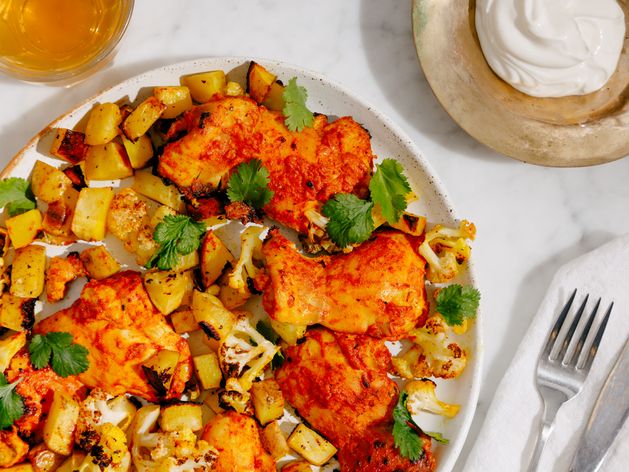 Ingredients
½ cup plain Greek yogurt, plus more for garnishing
1 clove garlic, grated
1-inch piece fresh ginger, peeled and grated
½ teaspoon sweet paprika
½ teaspoon ground tumeric
1 teaspoon curry powder
1 lb boneless, skinless chicken thighs
1½ cups cauliflower florets (1-inch pieces)
1½ cups diced Yukon Gold potatoes (½-inch pieces)
¼ cup roughly chopped fresh mint or cilantro
From Your Pantry
cooking oil
kosher salt and black pepper
Equipment
mixing bowls
Brava metal tray
Nutrition Information
Allergens: Milk
Tags
Dinner
Chicken
Gluten Free
Metal Tray
Serves 4
Nutrition Information
Allergens: Milk
Keywords
Dinner
Chicken
Gluten Free
Metal Tray
Serves 4
1
Marinate chicken
In medium bowl, stir together yogurt, garlic, ginger, paprika, turmeric, ½ teaspoon curry powder and a pinch of salt and pepper.
Add chicken thighs and stir to coat evenly.
Cover and refrigerate for 20–30 minutes.
While chicken marinates, prepare vegetables.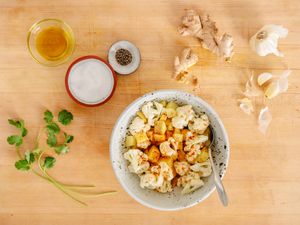 2
Prep vegetables
In another medium bowl, toss together cauliflower, potatoes, remaining ½ teaspoon curry powder, 1 tablespoon cooking oil and a pinch of salt and pepper.
Evenly spread vegetables in Zones 1, 2 and 3 of Brava metal tray.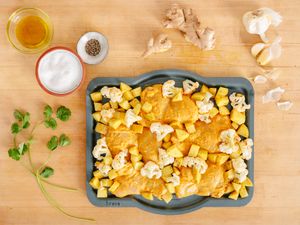 3
Roast chicken & vegetables
Remove chicken from marinade; shake off excess marinade.
Move vegetables as needed to make room for chicken thighs and place on metal tray.
Slide metal tray into top oven shelf.
Select "Chicken Tikka" on your oven touchscreen and follow instructions.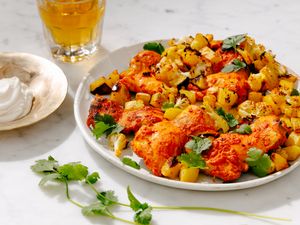 4
Finish & serve
When your food is done, arrange chicken and vegetables on serving platter.
Garnish with dollops of yogurt and sprinkle with mint or cilantro.