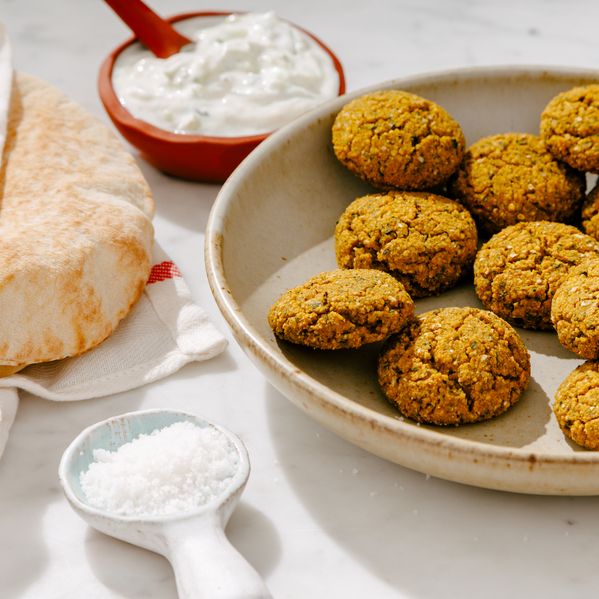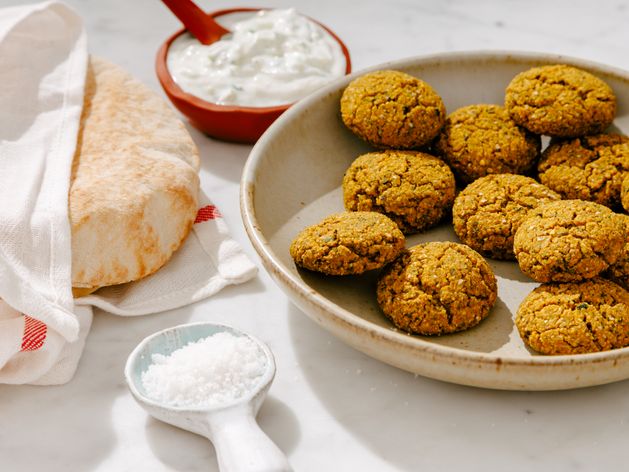 Ingredients
1 box (6 oz) falafel mix
1 cup grated English cucumber
1 cup Greek yogurt
2 tablespoons finely chopped fresh mint
Zest of 1 lemon
Juice of ½ lemon
Pita bread for serving (optional)
From Your Pantry
cooking oil
kosher salt and black pepper
flaky sea salt (optional)
Equipment
mixing bowls
Brava metal tray
Nutrition Information
Allergens: Milk, Wheat (Gluten)
Tags
Dinner
Starter
Vegetarian
Kid Friendly
Appetizer
Crowd-pleaser
Metal Tray
Middle Eastern
Serves 4
Side
Sides
Weekend
Weeknight
Year Round
Nutrition Information
Allergens: Milk, Wheat (Gluten)
Keywords
Dinner
Starter
Vegetarian
Kid Friendly
Appetizer
Crowd-pleaser
Metal Tray
Middle Eastern
Serves 4
Side
Sides
Weekend
Weeknight
Year Round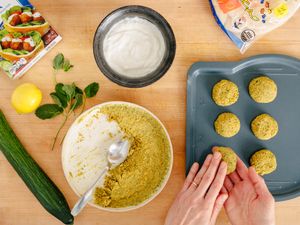 1
Form falafel patties
Prepare falafel mix according to package instructions.
Using your hands, form falafel mixture into patties ¾ inch thick and 1½ inches wide. You should have about 12 patties.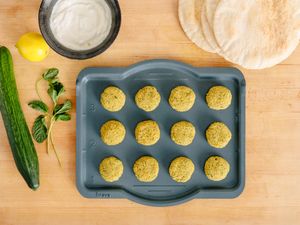 2
Bake falafel
Drizzle 2 tablespoons cooking oil on Zones 1, 2 and 3 of Brava metal tray.
Place falafels, evenly spaced apart, in Zones 1, 2 and 3 of metal tray.
Slide metal tray into top oven shelf.
Select "Crispy Baked Falafel" on your oven touchscreen and follow instructions.
While food cooks, prepare tzatziki sauce.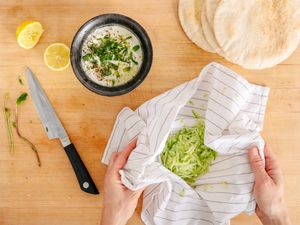 3
Make tzatziki sauce
Using clean towel, squeeze excess moisture from grated cucumber.
In small bowl, stir together cucumber, yogurt, mint, lemon zest, lemon juice and a pinch of kosher salt and pepper.
Refrigerate sauce until ready to serve.
4
Serve
When your food is done, arrange falafel on serving platter.
If desired, sprinkle falafel with flaky sea salt. Serve with tzatziki sauce and pita bread, if desired.