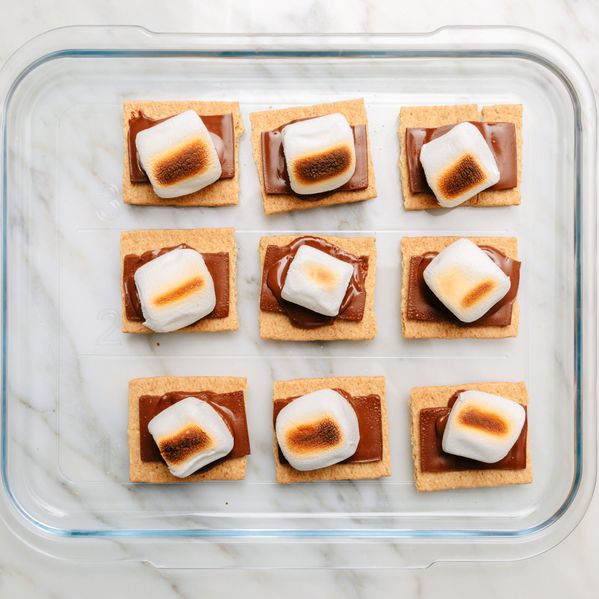 Ingredients
1 box graham crackers (14.4 oz)
1 chocolate bar
6 oz marshmallows (about half a standard bag)
From Your Pantry
Equipment
Brava glass tray
Nutrition Information
Allergens: Milk (if using milk chocolate), Wheat (Gluten)
Tags
Chef's Picks
Sweets
Vegetarian
Kid Friendly
All American
Desserts
Glass Tray
Serves 4
Snack
Nutrition Information
Allergens: Milk (if using milk chocolate), Wheat (Gluten)
Keywords
Chef's Picks
Sweets
Vegetarian
Kid Friendly
All American
Desserts
Glass Tray
Serves 4
Snack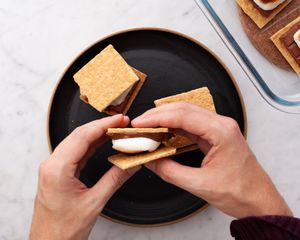 1
Load Tray
Place graham cracker halves on Brava glass tray. For 1–3 s'mores, place in Zone 2. For 4–6 s'mores, place in Zones 1 and 2. For 7–9 s'mores, place in Zones 1, 2 and 3.
Top each cracker half with a piece of chocolate that is no larger than the cracker.
Place a marshmallow on each piece of chocolate. Make sure marshmallow is on its side.
Slide glass tray into top oven shelf.
Select "S'mores" on your oven touchscreen and follow instructions.
Eat open-faced or top with another graham cracker for the ultimate sweet sandwich.
You may have some graham crackers, chocolate and marshmallows left over.