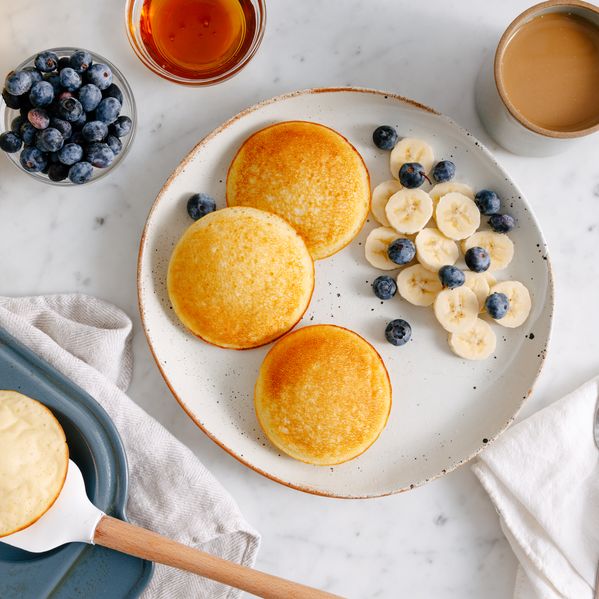 Ingredients
2 cups all-purpose flour
2 tablespoons baking powder
1 tablespoon sugar
1 teaspoon kosher salt
2 eggs
2½ cups milk
1 tablespoon vanilla extract
Butter and maple syrup for serving
From Your Pantry
Nonstick cooking spray
Equipment
mixing bowls
whisk
Brava egg tray
Nutrition Information
Allergens: Milk, Eggs, Wheat (Gluten)
Tags
Breakfast
Sweets
Vegetarian
Kid Friendly
All American
Egg tray
Serves 4
Weekend
Year Round
Nutrition Information
Allergens: Milk, Eggs, Wheat (Gluten)
Keywords
Breakfast
Sweets
Vegetarian
Kid Friendly
All American
Egg tray
Serves 4
Weekend
Year Round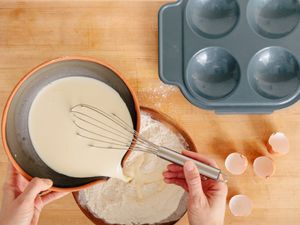 1
Make pancake batter
In medium bowl, stir together flour, baking powder, sugar and salt.
In another medium bowl, whisk together eggs, milk and vanilla.
Add egg mixture to flour mixture and whisk until just combined; do not overmix.
Let batter rest for 3 minutes before filling tray.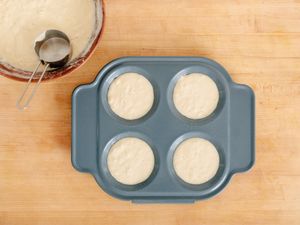 2
Cook pancakes
Lightly spray wells of Brava egg tray with nonstick cooking spray.
Ladle about ¼ cup pancake batter into each prepared egg cup.
Slide egg tray into top oven shelf.
Select "Mini Pancake Muffins" on your oven touchscreen and follow instructions.
3
Serve
When your food is done, using a spoon, gently scoop out pancakes and transfer to serving platter.
Serve with butter and maple syrup or other favorite toppings.