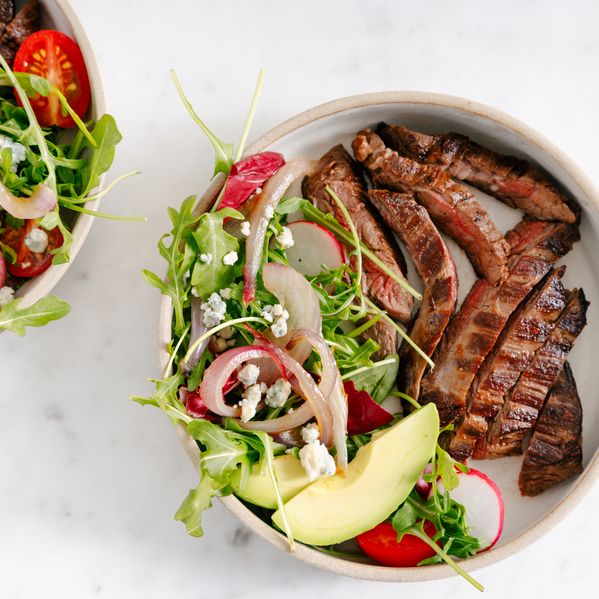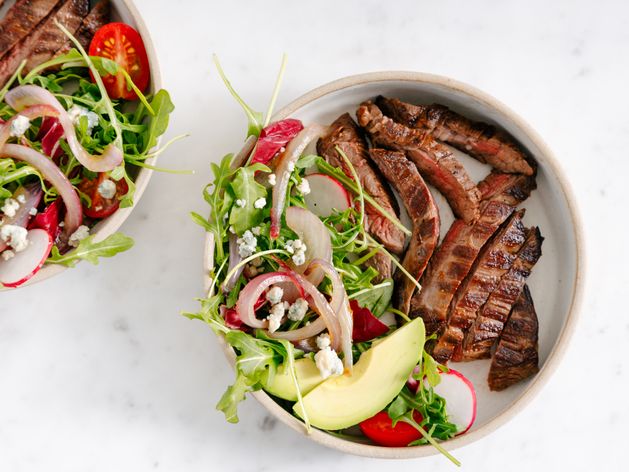 Ingredients
1 cup sliced red onion (¼-inch-thick slices)
1 skirt steak (12–14 oz)
2 cups baby arugula
½ cup halved cherry tomatoes
1 head radicchio, cored and coarsely chopped
1 avocado
2 tablespoons red wine vinegar
2 radishes, thinly sliced
¼ cup crumbled blue cheese
From Your Pantry
cooking oil
extra virgin olive oil
kosher salt and black pepper
flaky sea salt
Equipment
mixing bowls
Brava metal tray
Nutrition Information
Allergens: Milk
Tags
Chef's Picks
Lunch
Dinner
Kid Friendly
All American
Beef
California
Crowd-pleaser
Dairy Free
Date Night
Gluten Free
Keto
Metal Tray
Serves 2
Signature Entree
Weekend
Weeknight
Year Round
Nutrition Information
Allergens: Milk
Keywords
Chef's Picks
Lunch
Dinner
Kid Friendly
All American
Beef
California
Crowd-pleaser
Dairy Free
Date Night
Gluten Free
Keto
Metal Tray
Serves 2
Signature Entree
Weekend
Weeknight
Year Round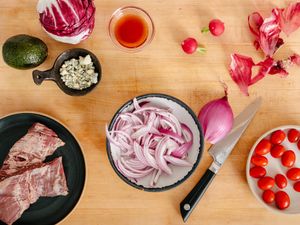 1
Prep onion & steak
In medium bowl, toss together red onion, ½ teaspoon cooking oil and a pinch of kosher salt.
Evenly spread onion in Zone 3 of Brava metal tray.
Pat steak dry with paper towels. Season steak on both sides with a pinch of kosher salt and pepper.
Place steak lengthwise in Zone 1 and Zone 2 of metal tray.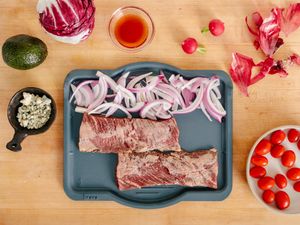 2
Cook onion & steak
Slide metal tray into top oven shelf.
Select "Brava Steak Salad" on your oven touchscreen and follow instructions.
While food cooks, prepare salad and vinaigrette.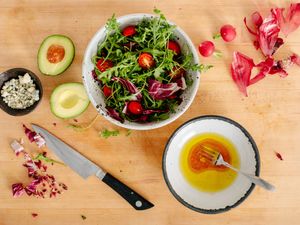 3
Make salad & vinaigrette
In large bowl, toss together arugula, cherry tomatoes and radicchio.
Halve avocado lengthwise and remove pit and skin. Slice avocado and set aside.
In another medium bowl, combine red wine vinegar, 2 tablespoons extra-virgin olive oil and a pinch of kosher salt; stir well.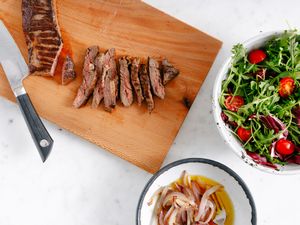 4
Slice steak, finish salad & serve
Transfer onion to bowl with vinaigrette; let stand while slicing steak.
Thinly slice steak across the grain. This will stop the cooking process and maintain your preferred doneness.
Arrange steak on individual plates.
Using fork, remove onion from vinaigrette and set aside.
Season salad with a pinch of flaky sea salt and pepper. Add vinaigrette and toss well.
Arrange salad next to steak. Garnish salad with onion, avocado, radishes and blue cheese.