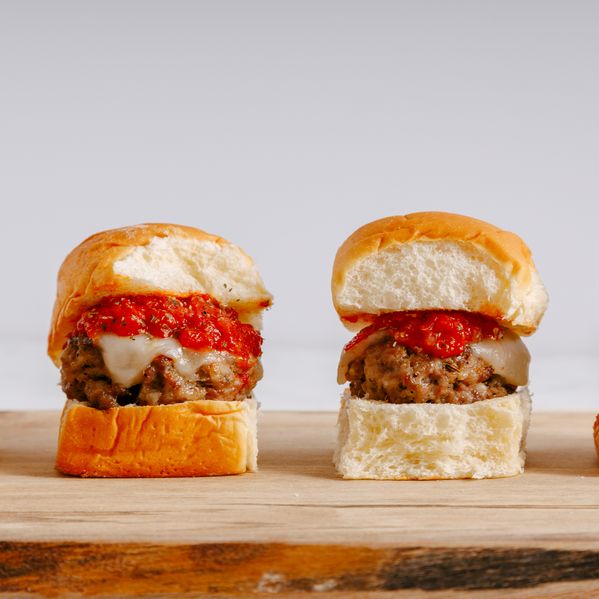 Ingredients
3 fresh Italian sausage links or 10 oz bulk Italian sausage (mild or spicy)
¼ cup San Marzano tomato puree or store-bought pasta sauce
1 slice provolone cheese
4 slider buns
1 teaspoon dried oregano
From Your Pantry
Equipment
Brava metal tray
mixing bowl
small saucepan
Nutrition Information
Allergens: Wheat (Gluten), Milk
Tags
Dinner
Starter
Kid Friendly
Appetizer
Metal Tray
Pork
Serves 4
Weeknight
Year Round
Nutrition Information
Allergens: Wheat (Gluten), Milk
Keywords
Dinner
Starter
Kid Friendly
Appetizer
Metal Tray
Pork
Serves 4
Weeknight
Year Round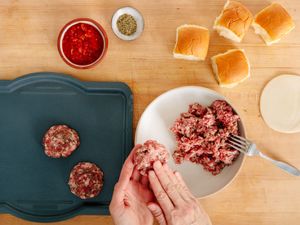 1
Form sausage patties
Using tip of knife, slice sausage links lengthwise. Remove casing and discard; transfer sausage meat to medium mixing bowl.
Using your hands, form sausage mixture into 4 patties ½ inch thick and 2 inches wide. Use about ¼ cup sausage meat, or 2–3 oz. for each patty.
Place sausage patties, evenly spaced apart, in Zones 1 and 2 of Brava metal tray.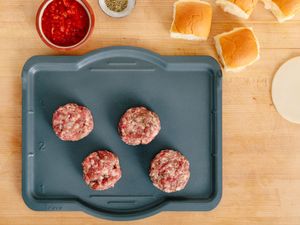 2
Cook sausage patties
Slide metal tray into top oven shelf.
Select "Sausage Sliders" on your oven touchscreen and follow instructions.
While food cooks, prepare remaining ingredients.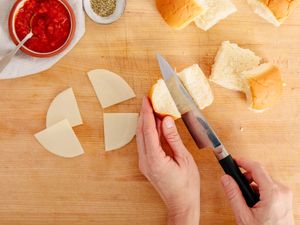 3
Prep remaining ingredients
In small saucepan over medium heat, warm tomato puree until just heated through, about 1 minute. Set aside.
Cut provolone into 4 pieces.
Cut slider buns in half horizontally.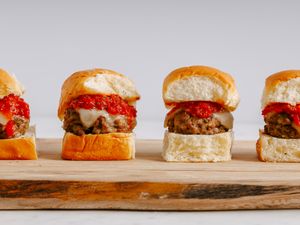 4
Assemble sliders & serve
When your food is done, immediately top each sausage patty with a provolone slice and close oven door until cheese melts, about 2 minutes.
Transfer patties to bottom slider buns. Top each patty with 1 tablespoon tomato puree and a pinch of dried oregano. Cover with top slider buns.
Arrange sliders on serving platter.