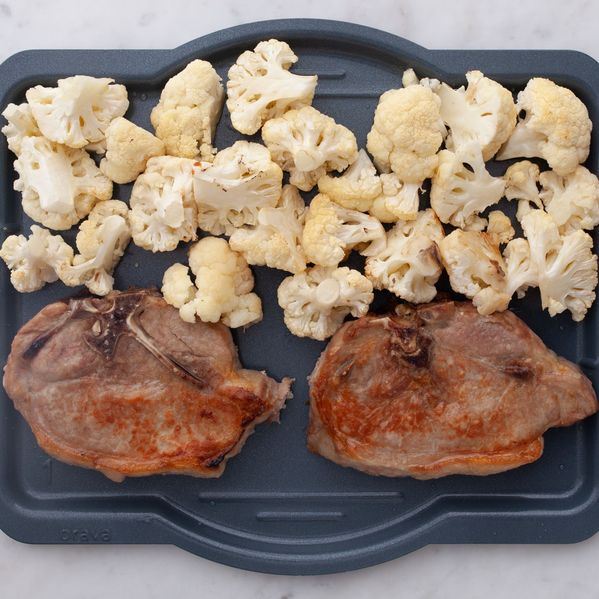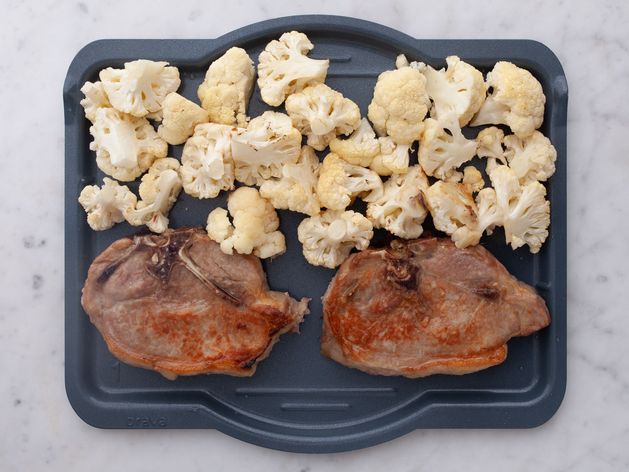 Ingredients
2 bone-in pork chops
4 cups cauliflower florets (2-inch pieces)
From Your Pantry
kosher salt
cooking oil
Equipment
Brava metal tray
Brava TempSensor
mixing bowl
Nutrition Information
Allergens: None
Tags
Dinner
Combo
Whole30®
Basic Combos
Dairy Free
Gluten Free
Keto
Metal Tray
Pork
Nutrition Information
Allergens: None
Keywords
Dinner
Combo
Whole30®
Basic Combos
Dairy Free
Gluten Free
Keto
Metal Tray
Pork
1
Recipe Instructions
Pat pork chops dry with paper towels.
Season both sides with salt.
Place pork chops in Zone 1 of Brava metal tray.
In medium bowl, toss together cauliflower, 1 tablespoon cooking oil and a pinch of salt.
Evenly spread cauliflower in Zones 2 and 3 of metal tray.
Slide metal tray into top oven shelf.
Select "Pork Chops (Bone-In) and Cauliflower" on your oven touchscreen and follow instructions.
After plugging in TempSensor, insert it horizontally through center of pork.
When your food is done, slice pork chops within 1 minute to maintain preferred doneness.