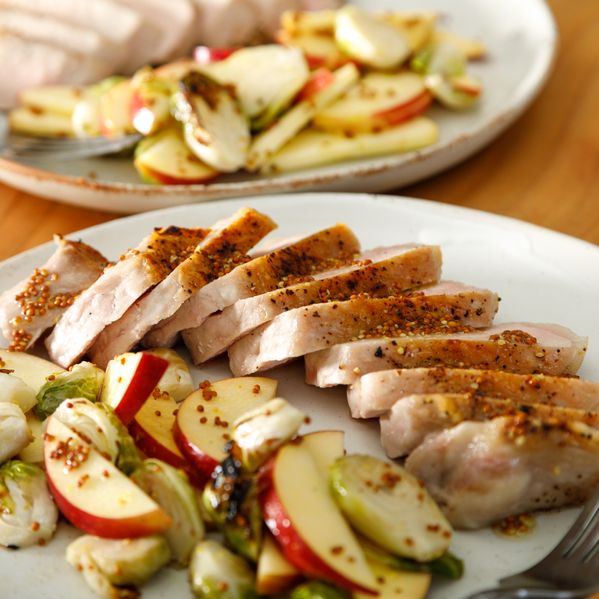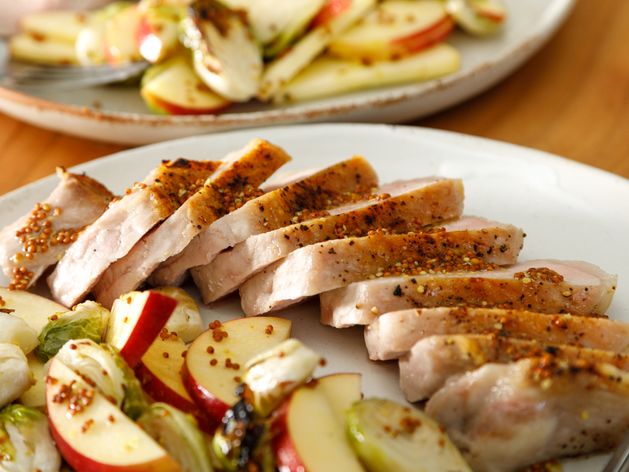 Ingredients
6 oz Brussels sprouts
2 boneless pork chops (½ lb each and about 1½ inches thick)
¼ oz fresh sage
2 tablespoons apple cider vinegar
1 tablespoon whole grain Dijon mustard
1 organic fuji apple
From Your Pantry
cooking oil
extra-virgin olive oil
kosher salt and black pepper
Equipment
Brava metal tray
Brava TempSensor
mixing bowls
Nutrition Information
Allergens: None
Tags
Dinner
Kid Friendly
Meal Kit
Dairy Free
Date Night
Entree
Fall
Fruits
Gluten Free
Metal Tray
Pork
Serves 2
Signature Entree
Weeknight
Nutrition Information
Allergens: None
Keywords
Dinner
Kid Friendly
Meal Kit
Dairy Free
Date Night
Entree
Fall
Fruits
Gluten Free
Metal Tray
Pork
Serves 2
Signature Entree
Weeknight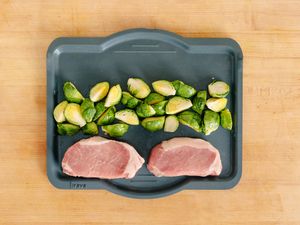 1
Prep Brussels sprouts & pork
Trim stem end and quarter Brussels sprouts. In medium bowl, toss together Brussels sprouts, 1 teaspoon cooking oil and a pinch of salt. Evenly spread Brussels sprouts in Zone 2 of Brava metal tray.
Pat pork chops dry with paper towels.
Season chops on both sides with a pinch of salt and pepper.
Place chops in Zone 1 of metal tray. Make sure thickest chop is on left side of Zone 1.
Put 1 sage leaf underneath each chop. Save remaining sage for finishing dish.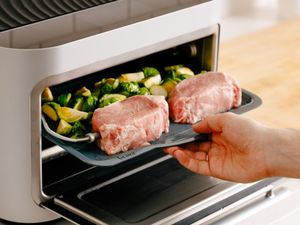 2
Slide metal tray into top oven shelf
Select "Snake River Farms Pork Chop" on your oven touchscreen and follow instructions.
After plugging in TempSensor, insert it horizontally through center of pork chop.
While food cooks, prepare vinaigrette and remaining ingredients.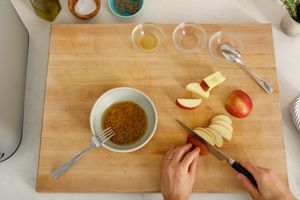 3
Make vinaigrette & prep remaining ingredients
In small bowl, combine apple cider vinegar, Dijon mustard, 2 tablespoons plus 1 teaspoon extra-virgin olive oil and a pinch of salt; stir well.
If desired, peel apple. Halve apple and remove core; thinly slice apple.
Remove 1 or 2 sage leaves from stem; finely chop leaves. You may have some sage left over.
4
Finish & serve
When your food is done, slice pork chops across the grain.
In large bowl, toss together Brussels sprouts, apple and chopped sage with half of vinaigrette.
Arrange pork, Brussels sprouts and apple on individual plates. If desired, drizzle pork with remaining vinaigrette.