Ingredients
2 tablespoons firmly packed light brown sugar
¼ cup all-purpose flour
¼ cup hazelnut or almond flour (or ¼ cup of your favorite chopped nuts, such as pecans, almonds, walnuts or hazelnuts)
⅛ teaspoon ground cinnamon
2 tablespoons cold unsalted butter, cut into ¼-inch pieces
2 cups bread or all-purpose flour
2½ teaspoons baking powder
¾ teaspoon kosher salt
⅔ cup milk
¼ cup canola oil
4 tablespoons unsalted butter, melted
1 cup granulated sugar
2 eggs
½ tablespoon vanilla extract
1½ cups blueberries
From Your Pantry
Equipment
mixing bowls
whisk
Brava muffin pan
paper muffin cups
rubber spatula
Nutrition Information
Allergens: Eggs, Wheat (Gluten), Milk
Tags
Breakfast
Sweets
Vegetarian
Kid Friendly
Brava Accessory
Fruit
Muffin Tin
Serves 4
Snack
Weekday
Weekend
Year Round
Nutrition Information
Allergens: Eggs, Wheat (Gluten), Milk
Keywords
Breakfast
Sweets
Vegetarian
Kid Friendly
Brava Accessory
Fruit
Muffin Tin
Serves 4
Snack
Weekday
Weekend
Year Round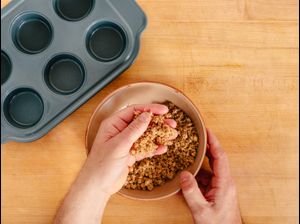 1
Make streusel (optional)
In medium bowl, stir together brown sugar, all-purpose flour, hazelnut flour and cinnamon.
Add butter and, using your fingers, work into flour until mixture resembles coarse cornmeal. Freeze until ready to use.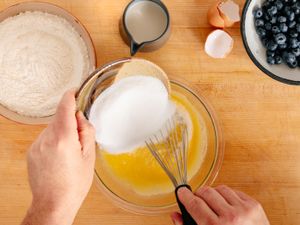 2
Prep flour & milk mixtures
In medium bowl, stir together bread flour, baking powder and salt.
In another medium bowl, whisk together milk, canola oil, butter, granulated sugar, eggs and vanilla extract.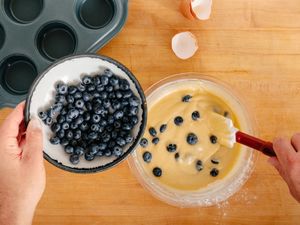 3
Finish muffin batter
Add milk mixture to flour mixture and stir until no large lumps remain.
Add blueberries and stir to combine.
Line Brava muffin pan with paper muffin cups. Using rubber spatula, divide batter among cups, filling each three-fourths full.
If using streusel topping, spoon 1 tablespoon on top of each muffin, gently pressing into batter.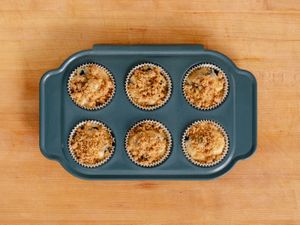 4
Bake muffins
Select "Bake" on your oven touchscreen. Set temperature to 350°F and timer for 20 minutes. Press green button to begin preheating.
When oven is preheated, slide muffin pan into top oven shelf. Press green button again to begin baking.
Bake until tops of muffins are golden brown and a toothpick inserted into center comes out clean, 20–23 minutes.
5
Cool muffins & serve
When your food is done, transfer pan to wire rack and let cool for 5–10 minutes before serving.