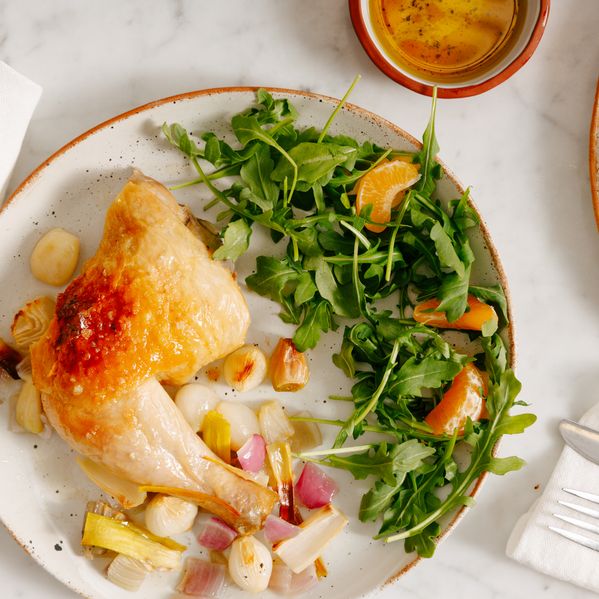 Ingredients
1 leek
½ cup peeled pearl onions
1 cup chopped shallot (1-inch pieces)
1 cup chopped cipollini onions (1-inch pieces)
2 cups diced red onion (1-inch pieces) (about 1 medium onion)
8-10 cloves garlic, peeled
1 whole chicken (3–6 lb)
1 tablespoon red wine vinegar
2 mandarin oranges
½ lb arugula
From Your Pantry
cooking oil
kosher salt and black pepper
extra-virgin olive oil
Equipment
mixing bowls
Brava metal tray
Brava TempSensor
kitchen shears or chef's knife
Nutrition Information
Allergens: None
Tags
Dinner
Kid Friendly
Whole30®
Chicken
Dairy Free
Gluten Free
Keto
Metal Tray
Serves 4
Nutrition Information
Allergens: None
Keywords
Dinner
Kid Friendly
Whole30®
Chicken
Dairy Free
Gluten Free
Keto
Metal Tray
Serves 4
1
Prep onion mixture
Remove root end and top green part of leek. Cut leek lengthwise into quarters, then crosswise into 1-inch pieces; wash and drain well.
In medium bowl, toss together leek, pearl onions, shallot, cipollini onions, red onion, garlic, 1 tablespoon cooking oil and a few pinches salt.
Evenly spread onion mixture in Zones 1, 2 and 3 of Brava metal tray.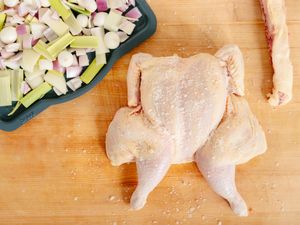 2
Prep chicken
Pat chicken dry with paper towels.
Place chicken, breast side down, on cutting board with legs toward you.
Using kitchen shears or chef's knife, cut along one side of backbone through ribs. Cut along other side and remove backbone.
Turn chicken, breast side up. Using palm of your hand, press down on breastbone to make breast as flat as possible. Press down on legs and thighs to expose as much skin as possible. Season chicken on both sides with a few pinches of salt and pepper.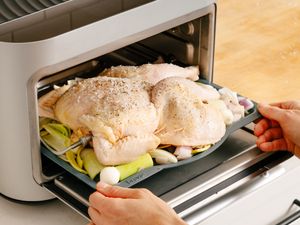 3
Roast chicken & onions
Place chicken, breast side up, on top of onion mixture, making sure breast is on left side of tray.
Slide metal tray into bottom oven shelf.
Select "Roast Chicken and Five Onions" on your oven touchscreen and follow instructions.
After plugging in TempSensor, insert it horizontally through thickest part of chicken breast toward breastbone.
While food cooks, prepare vinaigrette and salad.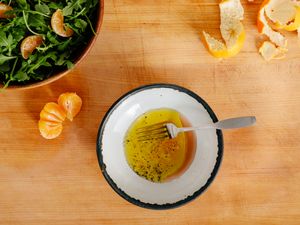 4
Make vinaigrette & salad
In small bowl, combine red wine vinegar, 2 tablespoons extra-virgin olive oil and a pinch of salt and pepper; stir well.
Using your hands, peel mandarin oranges and separate into segments.
In medium bowl, toss together arugula and mandarin segments. Wait to dress salad until chicken is done.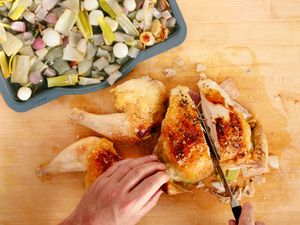 5
Carve chicken, dress salad & serve
When your food is done, transfer chicken to cutting board and cut into quarters, separating legs and cutting breast in half down the middle.
Arrange chicken on individual plates. Spoon some onions around chicken.
Season salad with a pinch of salt, then toss with vinaigrette to taste. You may have some vinaigrette left over. Divide salad between plates.