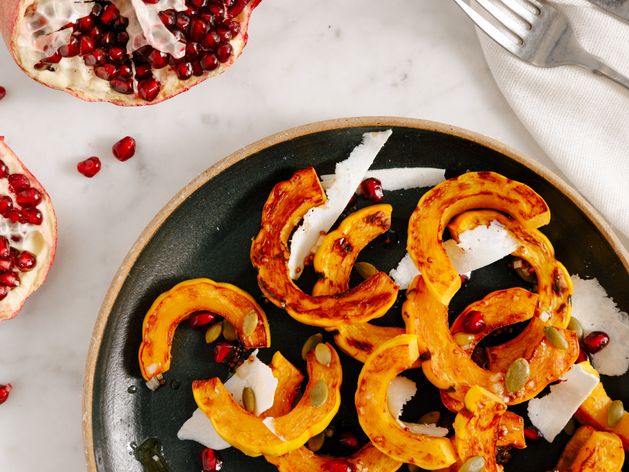 Ingredients
2 delicata squash
2 teaspoons finely chopped shallot
2 tablespoons apple cider vinegar
1 tablespoon whole grain Dijon mustard
1 tablespoon honey
¼ cup shaved ricotta salata or crumbled feta
¼ cup roasted pumpkin seeds
¼ cup pomegranate seeds
From Your Pantry
cooking oil
extra-virgin olive oil
kosher salt and black pepper
Equipment
mixing bowls
Brava metal tray
Nutrition Information
Allergens: Milk
Tags
Chef's Picks
Dinner
Vegetarian
Metal Tray
Serves 4
Nutrition Information
Allergens: Milk
Keywords
Chef's Picks
Dinner
Vegetarian
Metal Tray
Serves 4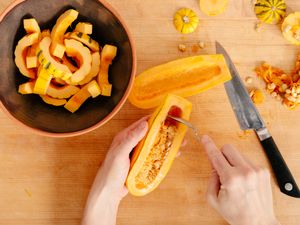 1
Prep delicata squash
Cut delicata squash in half lengthwise.
Using spoon, scoop out seeds.
Cut squash halves crosswise into ½-inch slices.
In medium bowl, toss together squash, 2 teaspoons cooking oil and a pinch of salt.
Evenly spread squash in Zones 1, 2 and 3 of Brava metal tray.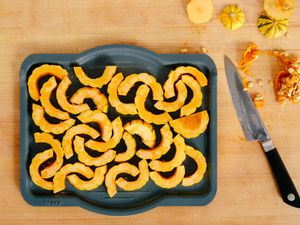 2
Roast squash
Slide metal tray into top oven shelf.
Select "Delicata Squash Salad" on your oven touchscreen and follow instructions.
While food cooks, prepare vinaigrette.
3
Make vinaigrette
In small bowl, combine shallot, apple cider vinegar, Dijon mustard, honey, ¼ cup extra-virgin olive oil and a pinch of salt; stir well.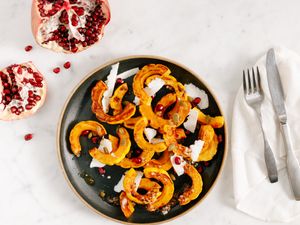 4
Finish salad & serve
When your food is done, arrange squash on serving platter.
Spoon half of vinaigrette over squash and season with salt and pepper. Taste and season with more salt, if desired.
Garnish squash with ricotta salata, pumpkin seeds and pomegranate seeds. If desired, drizzle with more vinaigrette.