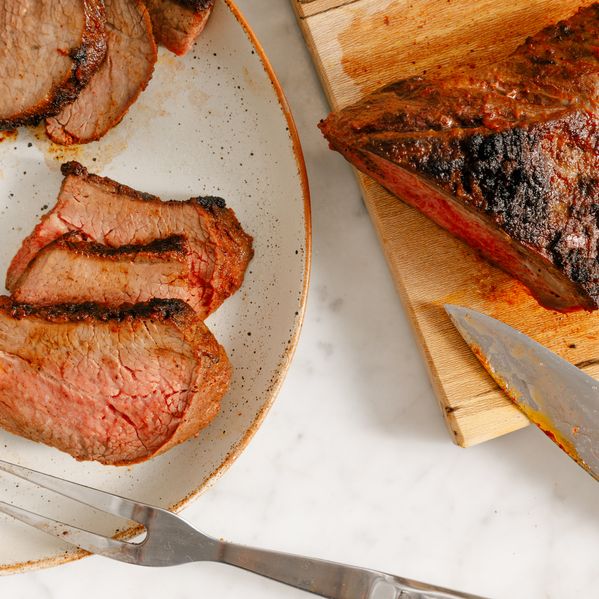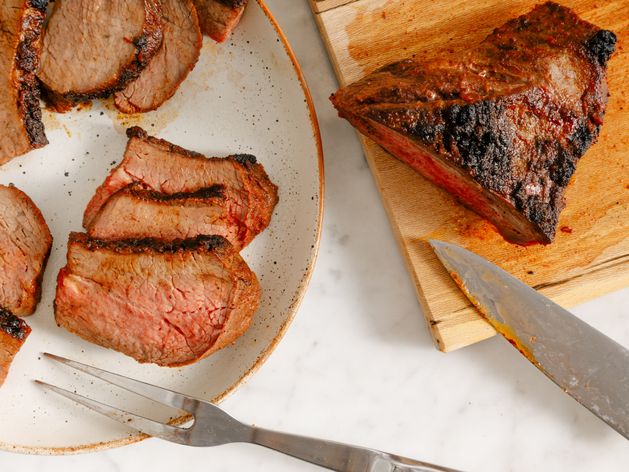 Ingredients
2 teaspoons kosher salt
2 teaspoons black pepper
2 teaspoons packed light brown sugar
2 teaspoons garlic powder
2 teaspoons onion powder
1½ teaspoons cayenne pepper
1 teaspoon sweet paprika
1 teaspoon smoked paprkia
1 teaspoon chili powder
½ teaspoon dry mustard
½ teaspoon ground cumin
1 tri-tip roast (3–4 lb)
From Your Pantry
cooking oil
flaky sea salt (optional)
Equipment
Brava glass tray
Brava TempSensor
mixing bowl
gallon-size resealable plastic bag
Nutrition Information
Allergens: None
Tags
Dinner
Kid Friendly
All American
BBQ
Beef
Brava Accessory
Dairy Free
Entree
Glass Tray
Serves 4
Weekend
Weeknight
Year Round
Nutrition Information
Allergens: None
Keywords
Dinner
Kid Friendly
All American
BBQ
Beef
Brava Accessory
Dairy Free
Entree
Glass Tray
Serves 4
Weekend
Weeknight
Year Round
1
Season tri-tip
For best results, season tri-tip at least 4 hours or up to 24 hours before cooking.
In small bowl, stir together kosher salt, black pepper, brown sugar, garlic powder, onion powder, cayenne, paprika, chili powder, dry mustard and cumin.
Evenly rub BBQ seasoning all over tri-tip roast and place in resealable plastic bag.
Pour ¼ cup cooking oil into bag, seal bag and rub all over to evenly coat tri-tip with oil.
Refrigerate until ready to cook.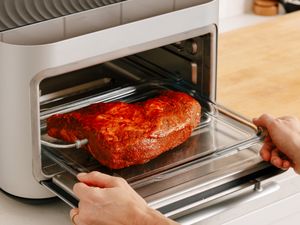 2
Roast tri-tip
Remove tri-tip from bag and place in Zones 1, 2 and 3 of Brava glass tray. Make sure thickest portion of tri-tip is on left side of tray.
Slide glass tray into bottom oven shelf.
Select "BBQ Rubbed Tri-Tip" on your oven touchscreen and follow instructions.
After plugging in TempSensor, insert it horizontally through center of thickest portion of tri-tip.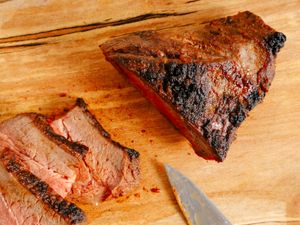 3
Slice tri-tip & serve
When your food is done, transfer tri-tip to cutting board and slice across the grain. This will stop the cooking process and maintain your preferred doneness.
If desired, sprinkle with flaky sea salt.