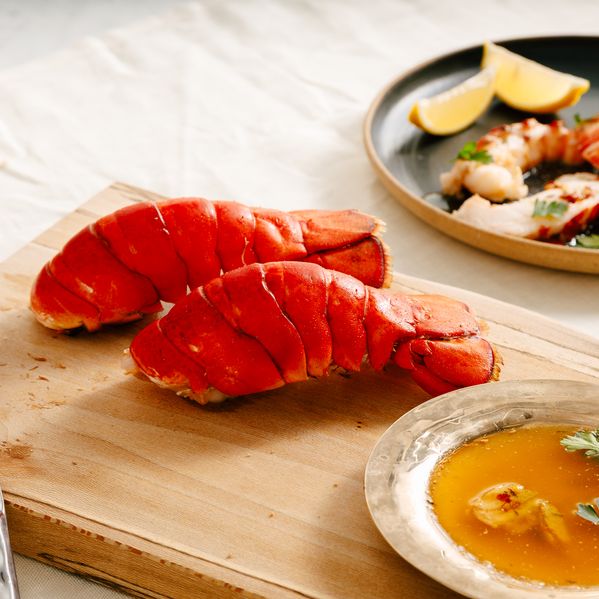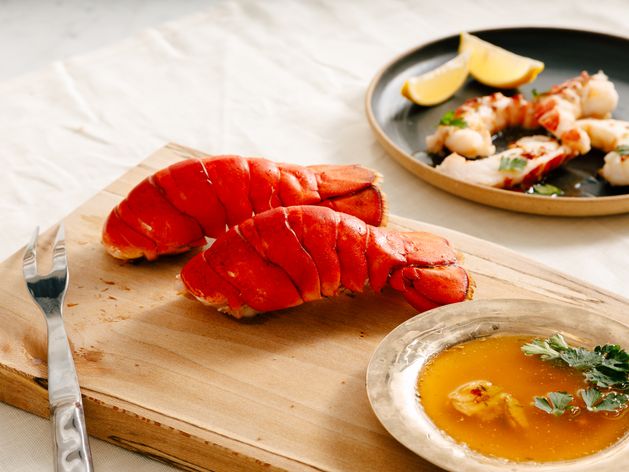 Ingredients
1 stick (¼ lb) unsalted butter, cut into 1-inch pieces
6 sprigs fresh thyme
3 sprigs fresh rosemary
3 cloves garlic, peeled and crushed with side of knife
½ teaspoon red pepper flakes
4 lobster tails (about 6 oz each)
1 tablespoon chopped fresh flat-leaf parsley
1 lemon, quartered
From Your Pantry
kosher salt and black pepper
flaky sea salt
Equipment
small saucepan
kitchen shears
Brava metal tray
fine-mesh strainer
Nutrition Information
Allergens: Milk, Shellfish
Tags
Dinner
Kid Friendly
Appetizer
Date Night
Gluten Free
Keto
Metal Tray
Paleo
Seafood
Serves 4
Shellfish
Weeknight
Year Round
Nutrition Information
Allergens: Milk, Shellfish
Keywords
Dinner
Kid Friendly
Appetizer
Date Night
Gluten Free
Keto
Metal Tray
Paleo
Seafood
Serves 4
Shellfish
Weeknight
Year Round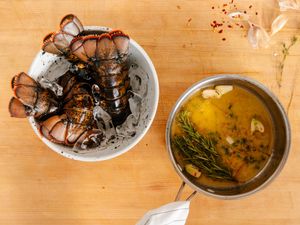 1
Make garlic-herb butter
In small saucepan over medium heat, melt butter.
Add thyme, rosemary, garlic and red pepper flakes and bring to a gentle simmer, stirring occasionally.
Remove from heat and season with a pinch of kosher salt and black pepper. Let stand while you prepare lobster.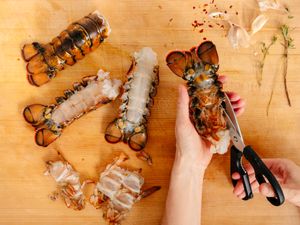 2
Prep lobster tails
Working with 1 lobster tail at a time, hold it with shell in palm of your hand with tail fin facing away from you.
Starting at end closest to you, use kitchen shears to cut along both sides of translucent membrane, where legs meet shell, all the way to tail fin, trying not to cut into flesh.
Lift up membrane and cut where it attaches to tail fin, exposing tail meat.
Starting at end closest to you and moving toward tail fin, slide thumb or index finger between shell and flesh to dislodge tail meat. Leave meat in shell.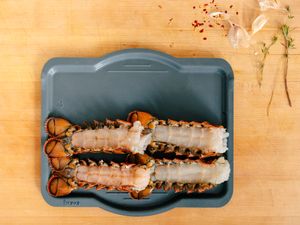 3
Roast lobster tails
Place lobster tails flesh side up in Zones 1 and 2 of Brava metal tray. Slide metal tray into bottom oven shelf.
Select "Roasted Lobster Tails" on your oven touchscreen and follow instructions.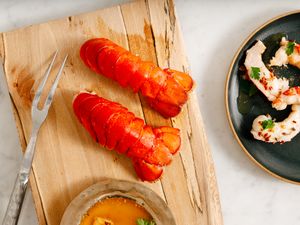 4
Finish & serve
When your food is done, let cool on tray for 2 minutes. Transfer lobsters to cutting board.
Remove tail meat from shells.
Slice tail meat in half lengthwise and arrange on serving platter or individual plates.
Strain melted butter, discarding herbs and garlic. Pour butter over lobster meat. Sprinkle with parsley and flaky sea salt. Serve with lemon wedges.