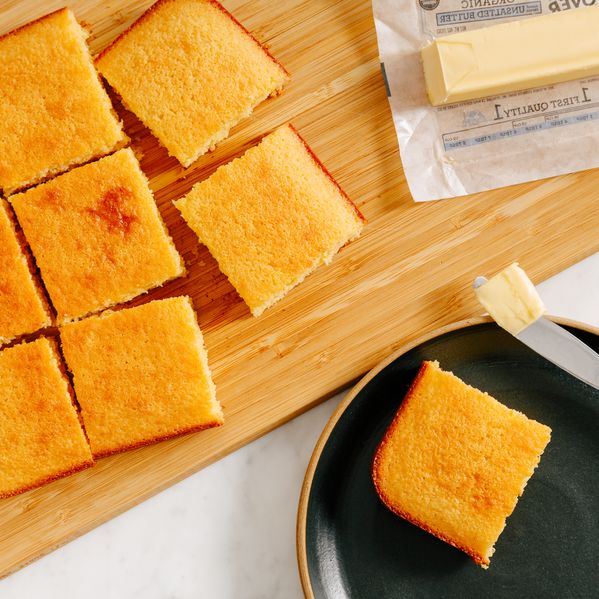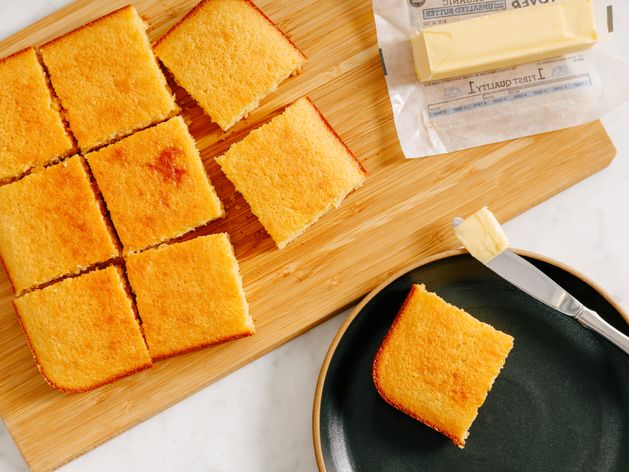 Ingredients
1 cup all-purpose flour
1 cup cornmeal
1 tablespoon baking powder
2 teaspoons kosher salt
1 cup milk
½ cup sugar
¼ cup honey
1 stick (¼ lb) cold unsalted butter, cut into 1-inch pieces
1 egg
From Your Pantry
Unsalted butter or nonstick cooking spray (for greasing pan)
Equipment
mixing bowl
whisk
medium saucepan
Brava square pan
Nutrition Information
Allergens: Eggs, Wheat (Gluten), Milk
Tags
Vegetarian
Kid Friendly
All American
Brava Accessory
Breads
Brownie Pan
Serves 4
Side
Square Pan
Summer
Year Round
Nutrition Information
Allergens: Eggs, Wheat (Gluten), Milk
Keywords
Vegetarian
Kid Friendly
All American
Brava Accessory
Breads
Brownie Pan
Serves 4
Side
Square Pan
Summer
Year Round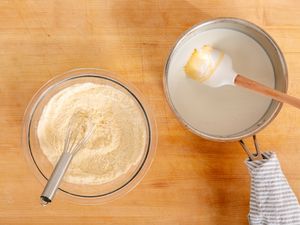 1
Prep flour & milk mixtures
In medium bowl, whisk together flour, cornmeal, baking powder and salt.
In medium saucepan over medium heat, stir together milk, sugar and honey and cook, stirring occasionally, until sugar is dissolved. Do not allow mixture to boil. Remove from heat.
Add butter; whisk until melted and combined.
Add egg; whisk well to combine.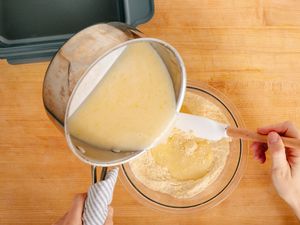 2
Finish cornbread batter
Add milk mixture to flour mixture and stir until no large lumps remain.
Lightly butter or spray Brava square pan; pour batter into pan.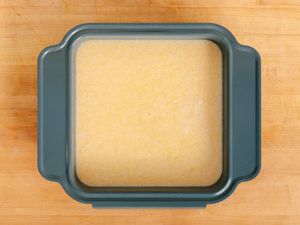 3
Bake cornbread
Select "Bake" on your oven touchscreen. Set temperature to 350°F and timer for 20 minutes. Press green button to begin preheating.
When oven is preheated, slide square pan into top oven shelf. Press green button again to begin baking.
Bake until top of cornbread is golden brown and a toothpick inserted into center comes out clean, 20–23 minutes.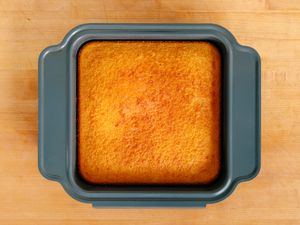 4
Cool cornbread & serve
When your food is done, transfer pan to wire rack and let cool for 10 minutes before serving.
Transfer cornbread to cutting board and cut into desired-size pieces.