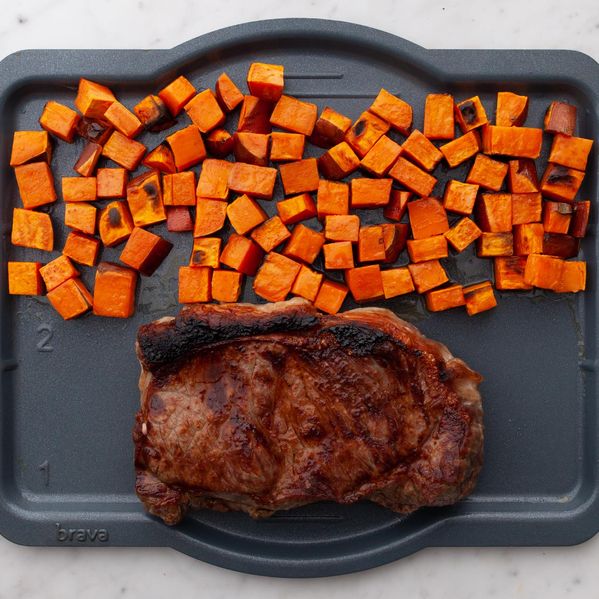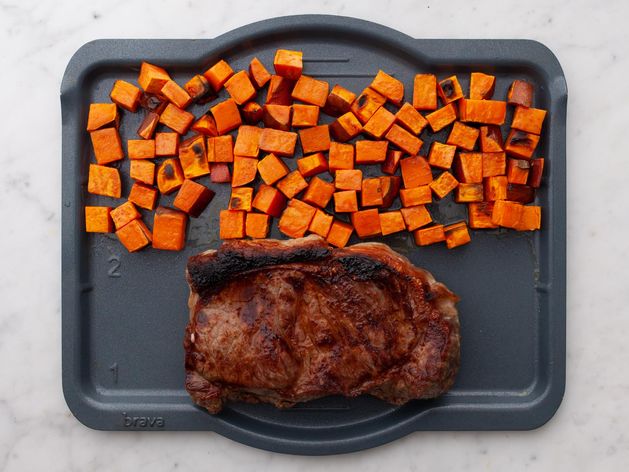 Ingredients
1 New York strip steak (1¼–2 inches thick)
2½ cups diced sweet potatoes (½-inch pieces)
From Your Pantry
kosher salt
cooking oil
Equipment
Brava metal tray
Brava TempSensor
mixing bowl
Nutrition Information
Allergens: None
Tags
Dinner
Combo
Kid Friendly
Whole30®
Basic Combos
Beef
Dairy Free
Gluten Free
Metal Tray
Nutrition Information
Allergens: None
Keywords
Dinner
Combo
Kid Friendly
Whole30®
Basic Combos
Beef
Dairy Free
Gluten Free
Metal Tray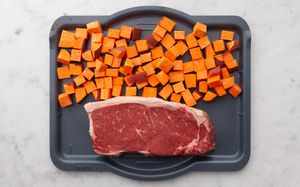 1
Recipe Instructions
Pat steak dry with paper towels.
Season both sides with salt.
Place steak in Zone 1 of Brava metal tray with thickest portion on left side.
In medium bowl, toss together sweet potatoes, 1 tablespoon cooking oil and a pinch of salt.
Evenly spread sweet potatoes in Zones 2 and 3 of metal tray.
Slide metal tray into top oven shelf.
Select "NY Strip Steak and Sweet Potatoes" on your oven touchscreen and follow instructions.
After plugging in TempSensor, insert it horizontally through thickest portion of steak.
When your food is done, slice steak within 1 minute to maintain preferred doneness.