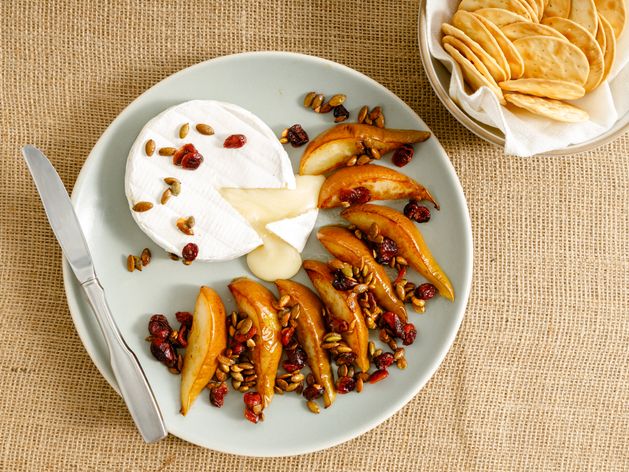 Ingredients
1 wheel (½ lb) Brie
1 large d'Anjou pear, cored and cut into 8 slices
¼ cup dried cranberries
¼ cup roasted pumpkin seeds
1 tablespoon honey
Crackers or crostini for serving
From Your Pantry
Equipment
Brava metal tray
small sauté pan (optional)
mixing bowl
Nutrition Information
Allergens: Milk
Tags
Starter
Vegetarian
Appetizer
California
French
Fruits
Gluten Free
Metal Tray
Serves 4
Snack
Winter
Nutrition Information
Allergens: Milk
Keywords
Starter
Vegetarian
Appetizer
California
French
Fruits
Gluten Free
Metal Tray
Serves 4
Snack
Winter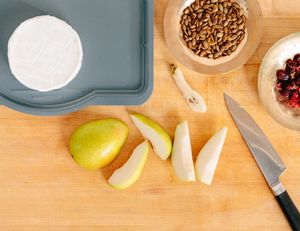 1
Prep Brie & pear
Place Brie in Zone 1 of Brava metal tray. It's okay if Brie extends into Zone 2.
Evenly spread pear slices in Zone 3 of metal tray.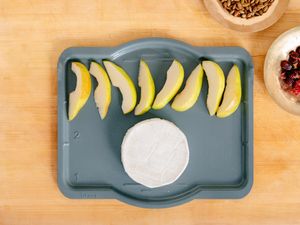 2
Bake Brie & pear
Slide metal tray into top oven shelf.
Select "Baked Brie and Pears" on your oven touchscreen and follow instructions.
While food cooks, prepare pumpkin seed mixture.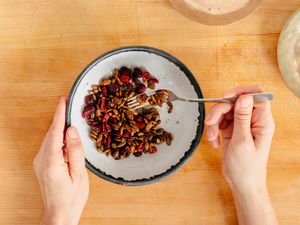 3
Prep pumpkin seed mixture
If desired, in small sauté pan over medium heat, combine dried cranberries and ¼ cup water. Cook, stirring occasionally, until water has evaporated and cranberries are plump and hydrated, about 5 minutes.
In small bowl, stir together cranberries, pumpkin seeds, and honey.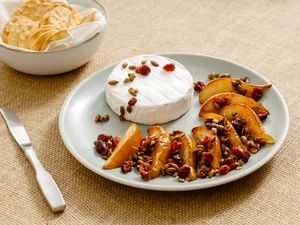 4
Finish & serve
When your food is done, arrange Brie and pears on serving platter. Top Brie with pumpkin seed mixture. Serve with crackers or crostini.