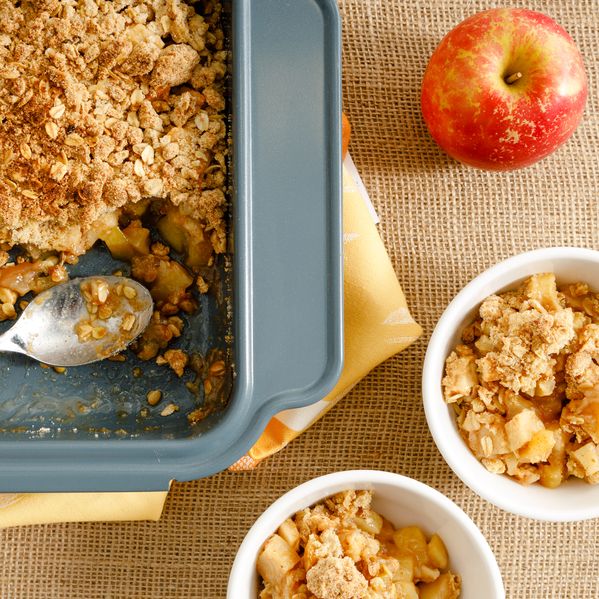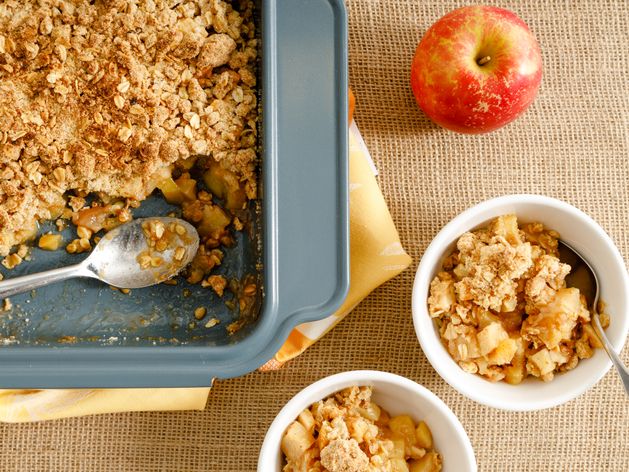 Ingredients
½ cup old-fashioned rolled oats
½ cup all-purpose flour
¼ cup granulated sugar
¼ cup packed light brown sugar
¼ teaspoon kosher salt
4 tablespoons unsalted butter, melted
7 cups chopped apples (½-inch pieces) (about 7 apples)
¼ cup granulated sugar
2 tablespoons all-purpose flour
1 tablespoon unsalted butter
1 teaspoon lemon zest
1 teaspoon fresh lemon juice
¼ teaspoon ground cinnamon
Vanilla ice cream for serving (optional)
From Your Pantry
Equipment
mixing bowls
Brava square pan
Nutrition Information
Allergens: Wheat (Gluten), Milk
Tags
Sweets
Vegetarian
Kid Friendly
Brava Accessory
Brownie Pan
Desserts
Fall
Fruits
Serves 4
Square Pan
Weekend
Weeknight
Nutrition Information
Allergens: Wheat (Gluten), Milk
Keywords
Sweets
Vegetarian
Kid Friendly
Brava Accessory
Brownie Pan
Desserts
Fall
Fruits
Serves 4
Square Pan
Weekend
Weeknight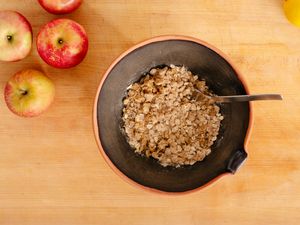 1
Prep crisp topping
In medium bowl, stir together oats, flour, granulated sugar, brown sugar and salt.
Add melted butter and stir until coarse crumbs form.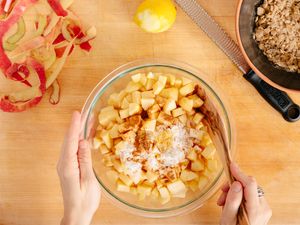 2
Prep apple filling & assemble crisp
In large bowl, stir together apples, granulated sugar, flour, butter, lemon zest, lemon juice and cinnamon.
Evenly spread apple mixture in Brava square pan.
Sprinkle evenly with crisp topping.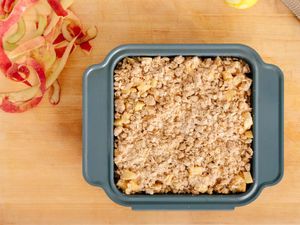 3
Bake apple crisp
Select "Bake" on your oven touchscreen. Set temperature to 350°F and timer for 35 minutes. Press green button to begin preheating.
When oven is preheated, slide square pan into top oven shelf. Press green button again to begin baking.
Bake until oat topping is golden brown and apples are tender and bubbling, 35–40 minutes.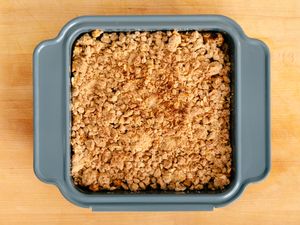 4
Cool crisp & serve
When your food is done, transfer pan to wire rack and let cool for 10 minutes before serving.
Scoop crisp into individual bowls. If desired, serve with vanilla ice cream.