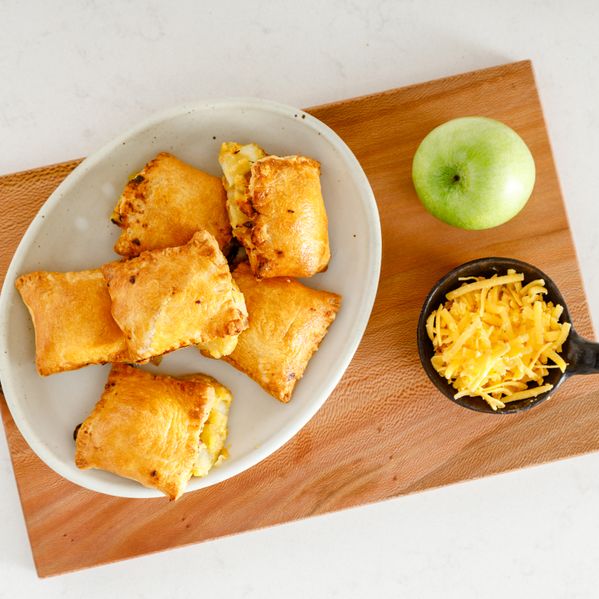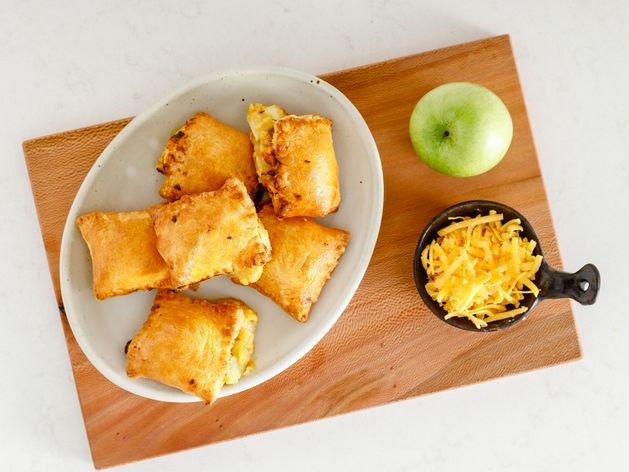 Ingredients
1 sheet frozen puff pastry (about 14 oz), thawed
2 eggs
1 egg yolk
2 lb Granny Smith apples
½ cup sugar
½ teaspoon ground cinnamon
1 tablespoon fresh lemon juice
2 tablespoons water
6 oz sharp cheddar, grated
From Your Pantry
kosher salt
Equipment
rolling pin
parchment paper
baking sheet
mixing bowl
medium saucepan
Brava metal tray
pastry brush
Nutrition Information
Allergens: Milk, Eggs, Wheat (Gluten)
Tags
Breakfast
Sweets
Vegetarian
Kid Friendly
Desserts
Fall
Fruits
Metal Tray
Serves 4
Snack
Weekend
Weeknight
Year Round
Nutrition Information
Allergens: Milk, Eggs, Wheat (Gluten)
Keywords
Breakfast
Sweets
Vegetarian
Kid Friendly
Desserts
Fall
Fruits
Metal Tray
Serves 4
Snack
Weekend
Weeknight
Year Round
1
Step 1: Prep puff pastry & egg wash
You can bake only 6 turnovers at a time. Assemble full batch of 12 turnovers. Bake the first batch of 6, reserving remaining 6 in refrigerator.
Roll out puff pastry into a 12-by-15-inch rectangle; place on a parchment-lined baking sheet and refrigerate for 30 minutes.
In small bowl, combine eggs, egg yolk and a pinch of salt; beat with fork until blended. Let stand at room temperature.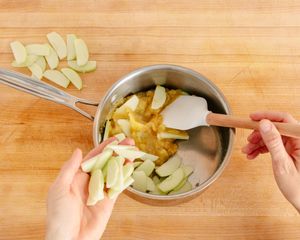 2
Step 2: Make filling
Peel and core apples.
Cut two-thirds of apples into ½-inch pieces. Cut remaining apples into ¼-inch slices.
In medium saucepan over medium heat, stir together diced apples, sugar, cinnamon, lemon juice and 2 tablespoons water.
Cook, stirring occasionally, until sugar is dissolved and mixture begins to thicken, about 8 minutes.
Remove from heat and stir in sliced apples; cool completely before filling turnovers.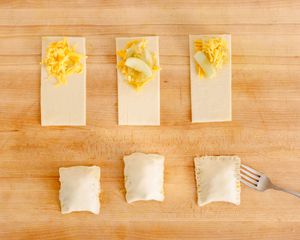 3
Step 3: Assemble turnovers
Cut puff pastry into 12 rectangles, each 3¾ by 4 inches.
Place ½ oz cheddar in center of each rectangle; top with apple filling, dividing evenly.
Fold pastry in half to form smaller rectangles. Press edges firmly with fingers or fork to seal.
Using fork, poke tops of turnovers a few times to prevent them from overflowing.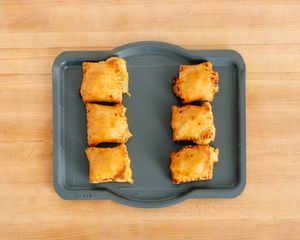 4
Step 4: Slide metal tray into top oven shelf
Place 6 turnovers, evenly spaced apart, in Zones 1, 2 and 3 of Brava metal tray.
Select "Bake" on your oven touchscreen. Set temperature to 375°F and timer for 30 minutes. Press green button to begin preheating.
Using pastry brush, brush tops of turnovers with egg wash.
When oven is preheated, slide metal tray into bottom oven shelf. Press green button again to begin baking.
Bake until tops of turnovers are golden brown, about 30 minutes.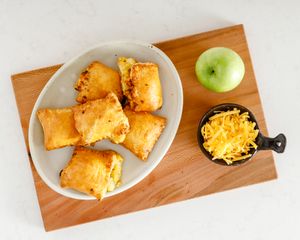 5
Step 5: Serve
When your food is done, transfer turnovers to wire rack or plate and cool for 10–15 minutes before serving.
Bake second batch of turnovers or refrigerate for up to 24 hours or freeze for up to 3 months.