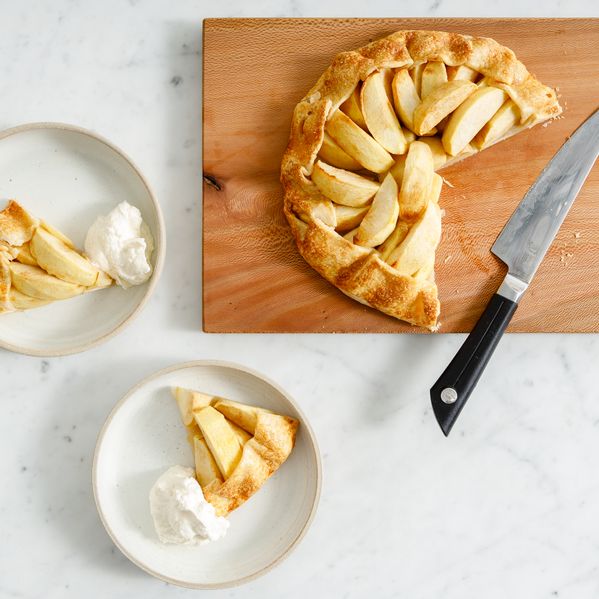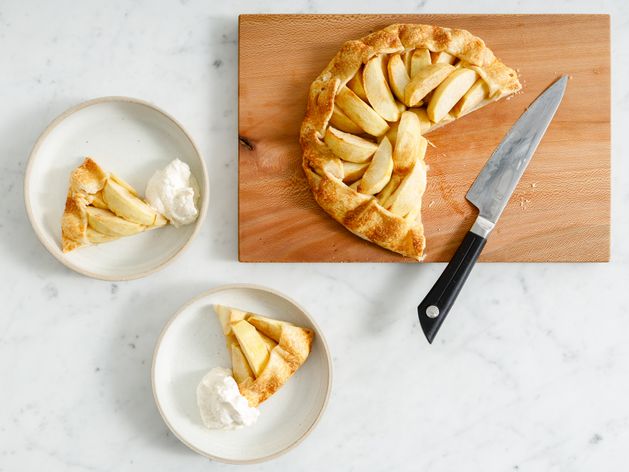 Ingredients
6 Fuji apples
¼ cup plus 2 tablespoons granulated sugar
1 teaspoon ground cinnamon
7-8 oz pie dough (or ½ package store-bought pie dough)
2 eggs
1 egg yolk
2 tablespoons turbinado sugar or other coarse sugar
1 cup heavy cream
Zest of 1 lemon
¼ teaspoon kosher salt
From Your Pantry
Equipment
vegetable peeler
mixing bowls
Brava metal tray
pastry brush
whisk
rolling pin
Nutrition Information
Allergens: Milk, Eggs, Wheat (Gluten)
Tags
Sweets
Vegetarian
Kid Friendly
Desserts
Fall
Fruits
Metal Tray
Serves 4
Weekend
Year Round
Nutrition Information
Allergens: Milk, Eggs, Wheat (Gluten)
Keywords
Sweets
Vegetarian
Kid Friendly
Desserts
Fall
Fruits
Metal Tray
Serves 4
Weekend
Year Round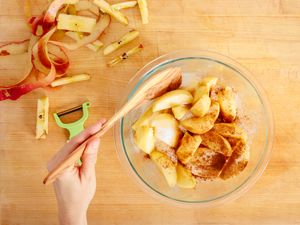 1
Step 1: Prep apples
Peel and core apples; cut each apple lengthwise into 8 slices.
In large bowl, toss together apples, ¼ cup granulated sugar, cinnamon and salt.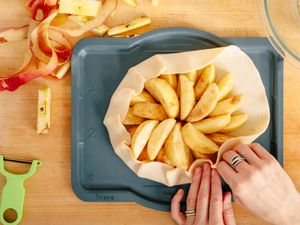 2
Step 2: Assemble crostata
Roll pie dough into a 10-inch round.
Lay dough round on Brava metal tray. Evenly spread apples on dough, leaving a 1-inch border uncovered on all sides.
Fold dough in from outside edge and press firmly against apples. For a more elegant presentation, form pleats in the folds.
Fold border up and over filling, pressing dough firmly against apples.
In small bowl, combine eggs and egg yolk; beat with fork until blended.
Using pastry brush, brush edges of dough with egg wash and sprinkle with turbinado sugar.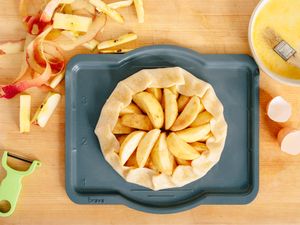 3
Step 3: Bake crostata
Slide metal tray into top oven shelf.
Select "Bake" on your oven touchscreen. Set temperature to 350°F and timer for 18 minutes. Press green button to begin preheating.
When oven is preheated, slide metal tray into bottom oven shelf. Press green button again to begin baking.
While food bakes, prepare whipped cream.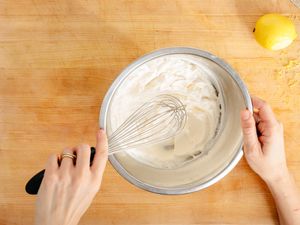 4
Step 4: Make lemon whipped cream
In large bowl, whisk together heavy cream, remaining 2 tablespoons granulated sugar and lemon zest until soft peaks form; refrigerate until ready to serve.
Check the crostata after 18 minutes. Crust should be golden brown and apples slightly browned and tender. If not, bake 5–10 minutes more.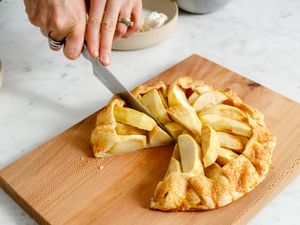 5
Step 5: Slice & serve
When your food is done, cool crostata on tray for 10 minutes before serving. Be sure to slice crostata on cutting board, not on metal tray.
Cut crostata into slices and serve with a dollop of lemon whipped cream.