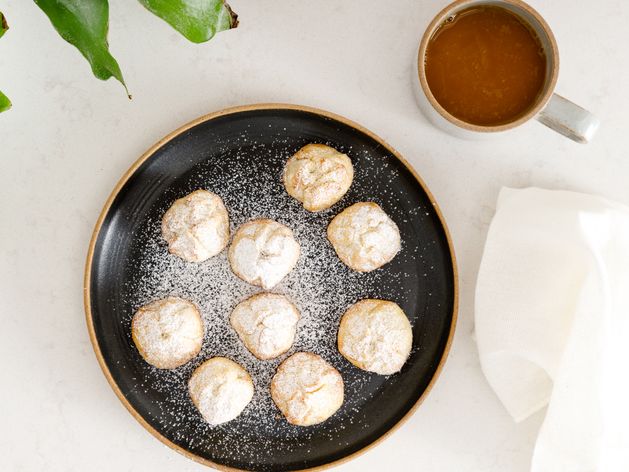 Ingredients
1 cup all-purpose flour, plus more for dusting
¼ teaspoon kosher salt
1¾ sticks (7oz) cold unsalted butter
1 egg
1 egg yolk
1 teaspoon vanilla extract
1 teaspoon fresh lemon juice
⅔ cup finely chopped dried figs
1 cup toasted chopped walnuts
⅔ cup chopped blanched almonds
Zest of 1 orange
2 teaspoons Dutch process cocoa powder
¾ cup red wine
1 tablespoon honey
1 tablespoon granulated sugar
¼ cup confectioners' sugar
¼ cup granulated sugar
From Your Pantry
Equipment
mixing bowl
medium saucepan
Brava metal tray
fine-mesh sifter
Nutrition Information
Allergens: Tree nuts, Eggs, Wheat (Gluten)
Tags
Sweets
Vegetarian
Kid Friendly
Fruits
Italian
Metal Tray
Serves 4
Weekend
Winter
Year Round
Nutrition Information
Allergens: Tree nuts, Eggs, Wheat (Gluten)
Keywords
Sweets
Vegetarian
Kid Friendly
Fruits
Italian
Metal Tray
Serves 4
Weekend
Winter
Year Round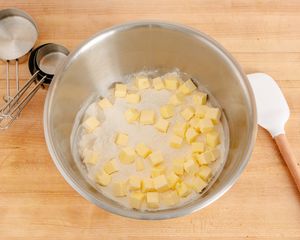 1
Step 1: Make dough
You can bake only 9 cookies at a time. Assemble full batch of 18 cookies. Bake first batch of 9, reserving remaining 9 in refrigerator.
In large bowl, stir together flour, granulated sugar and salt.
Using your hands, work butter into flour mixture until mixture resembles coarse sand.
Add egg and mix with hands until incorporated.
Add egg yolk, vanilla and lemon juice and mix with hands until loosely incorporated.
Transfer dough to lightly floured tabletop or cutting board and knead with hands until dough comes together, about 1 minute.
Wrap dough in plastic wrap and refrigerate for 1 hour.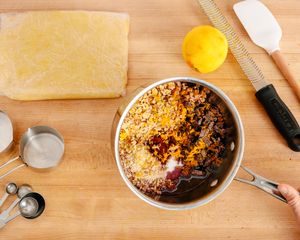 2
Step 2: Make filling
In medium saucepan over medium heat, stir together figs, walnuts, almonds, orange zest, cocoa powder, wine, honey and granulated sugar.
Cook, stirring occasionally, until most of liquid has evaporated and a thick paste forms, about 15 minutes.
Cool completely before forming cookies.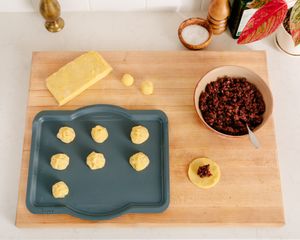 3
Step 3: Assemble cookies
Pinch chilled dough into pieces the size of quarters.
Roll dough between hands to make uniform balls. On floured surface, using your palm, press dough balls into flat circles.
Place about 1 teaspoon filling in center of each dough circle.
Fold sides up to enclose filling in a tight package (like a dumpling).
Place 9 cookies, evenly spaced apart, in Zones 1, 2 and 3 of Brava metal tray.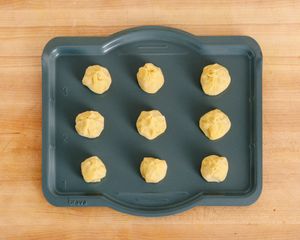 4
Step 4: Bake cookies
Select "Bake" on your oven touchscreen. Set temperature to 350°F and timer for 18 minutes. Press green button to begin preheating.
When oven is preheated, slide metal tray into bottom oven shelf. Press green button again to begin baking.
Bake until cookies are golden brown, about 18 minutes.
When your food is done, transfer cookies to wire rack and cool completely.
Using fine-mesh sifter, dust cookies with confectioners' sugar.
Store in an airtight container for up to 1 week.