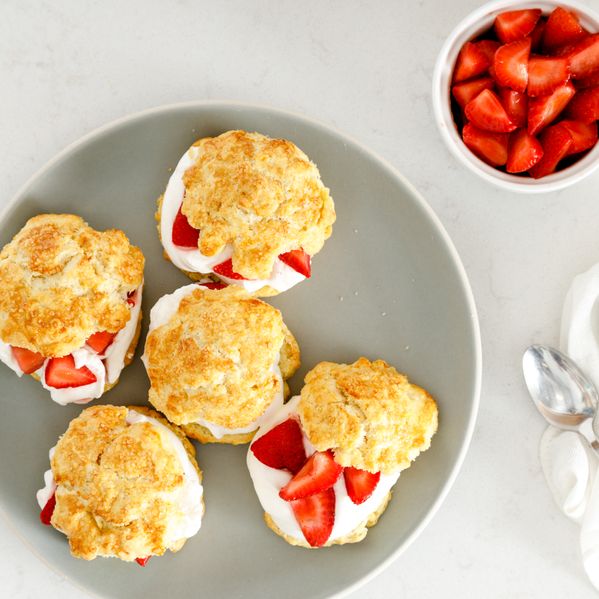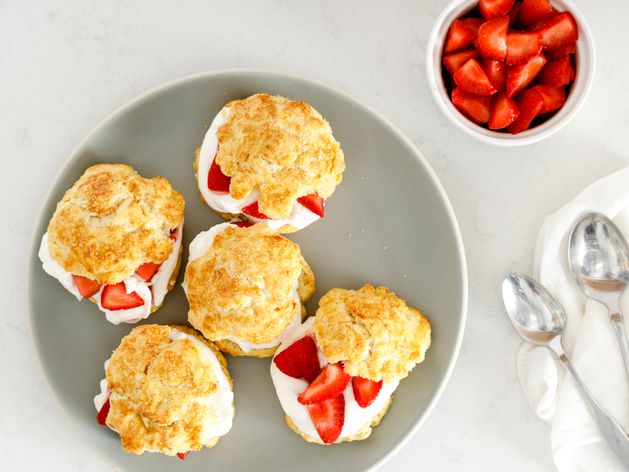 Ingredients
1½ cups bread flour
1 tablespoon baking powder
½ teaspoon plus 1 pinch kosher salt
4 tablespoons cold unsalted butter, cut into 1-inch pieces
2 cups plus 1 tablespoon cold heavy cream
Zest of 1 orange
2 eggs
1 egg yolk
1 pint strawberries, raspberries and/or blackberries
2 teaspoons fresh lime juice
2 tablespoons granulated sugar
2 tablespoons turbinado sugar or other coarse sugar
½ teaspoon vanilla extract
From Your Pantry
kosher salt
Equipment
mixing bowls
Brava metal tray
pastry brush
whisk
Nutrition Information
Allergens: Milk, Eggs, Wheat (Gluten)
Tags
Sweets
Vegetarian
Kid Friendly
All American
Desserts
Fruit
Fruits
Metal Tray
Serves 4
Weekend
Year Round
Nutrition Information
Allergens: Milk, Eggs, Wheat (Gluten)
Keywords
Sweets
Vegetarian
Kid Friendly
All American
Desserts
Fruit
Fruits
Metal Tray
Serves 4
Weekend
Year Round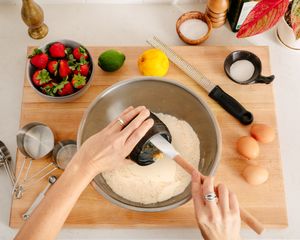 1
Step 1: Make dough
In large bowl, stir together bread flour, baking powder and ½ teaspoon salt. Using your hands, work butter into flour mixture until lumps are the size of peas.
Add 1 cup plus 1 tablespoon heavy cream and orange zest and stir until combined.
Divide dough into 6 equal rounds, each about 1½ inches tall.
Cover dough rounds loosely with plastic wrap and refrigerate for 30 minutes.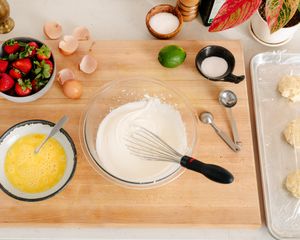 2
Step 2: Prep egg wash & macerate berries
In small bowl, combine eggs, egg yolk and a pinch of salt; beat with fork until blended. Let stand at room temperature.
In medium bowl, stir together berries, lime juice and 1 tablespoon granulated sugar. Let stand at room temperature.
Remove plastic wrap from shortcakes. Place them, evenly spaced apart, in Zones 1, 2 and 3 of Brava metal tray.
Select "Bake" on your oven touchscreen. Set temperature to 350°F and timer for 20 minutes. Press green button to begin preheating.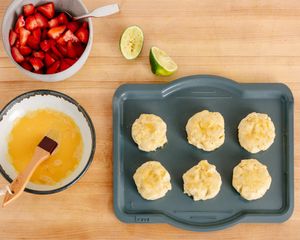 3
Step 3: Bake shortcakes & whip cream
Using pastry brush, brush tops of shortcakes with egg wash and sprinkle with turbinado sugar.
When oven is preheated, slide metal tray into bottom oven shelf. Press green button again to begin baking.
Bake until tops are golden brown and shortcakes are fully baked, about 20 minutes.
While shortcakes are baking, make whipped cream. In large bowl, whisk together remaining 1 cup heavy cream, remaining 1 tablespoon granulated sugar and vanilla extract until medium peaks form. Refrigerate until ready to assemble shortcakes.
When your food is done, transfer shortcakes to wire rack or plate and cool for 5–10 minutes before assembling.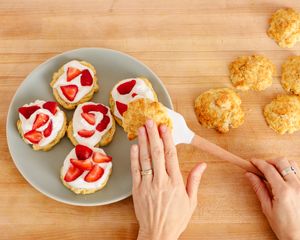 4
Step 4: Assemble & serve
Using serrated knife, cut shortcakes in half horizontally.
Spoon a heaping tablespoon of whipped cream on bottom half of each shortcake.
Top whipped cream with a spoonful of berries.
Top berries with another spoonful of whipped cream; cover with shortcake tops.