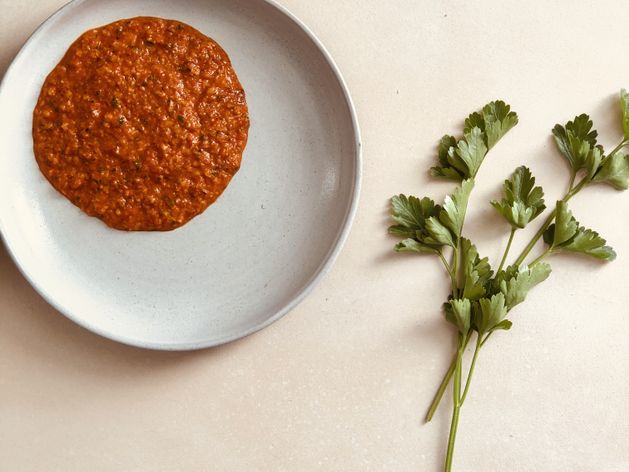 Ingredients
3 large roasted red bell peppers (or 8oz jarred, drained)
1 garlic clove, smashed
½ cup blanched hazelnuts, toasted
2 tablespoons sherry vinegar
1 teaspoon smoked or sweet paprika
From Your Pantry
extra-virgin olive oil
kosher salt and freshly ground black pepper
Equipment
blender or food processor
Brava metal tray
Nutrition Information
Allergens: Tree nuts (Hazelnuts)
Tags
Vegetarian
Dairy Free
Gluten Free
Keto
Metal Tray
Sauce
Side
Sides
Nutrition Information
Allergens: Tree nuts (Hazelnuts)
Keywords
Vegetarian
Dairy Free
Gluten Free
Keto
Metal Tray
Sauce
Side
Sides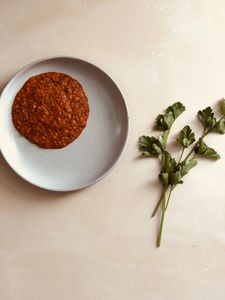 1
Instructions
Place bell peppers in Zone 2 of Brava metal tray.
Slide metal tray into bottom oven shelf.
Using Sear (Zone 2, Top Sear), roast peppers for 6 minutes.
Flip peppers and roast 6 minutes more.
Using a paper towel, peel roasted peppers and discard seeds.
Add bell peppers, garlic, hazelnuts, sherry vinegar and paprika to blender or food processor; pulse until ingredients are very finely chopped.
With motor running, slowly add oil; process until smooth.
Season with salt and pepper.