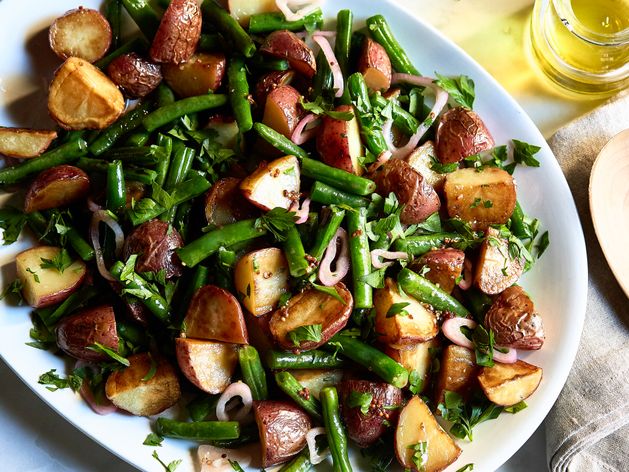 Ingredients
½ lb green beans
1 lb red potatoes
1 peeled shallot
2 teaspoons whole grain mustard
3 tablespoons red wine vinegar
¼ oz fresh flat-leaf parsley
From Your Pantry
cooking oil
extra-virgin olive oil
kosher salt and black pepper
Equipment
mixing bowls
Brava glass tray
Nutrition Information
Allergens: None
Tags
Lunch
Dinner
Starter
Vegetarian
All American
BBQ
Dairy Free
French
Glass Tray
Gluten Free
Salad
Side
Sides
Snack
Weekend
Weeknight
Nutrition Information
Allergens: None
Keywords
Lunch
Dinner
Starter
Vegetarian
All American
BBQ
Dairy Free
French
Glass Tray
Gluten Free
Salad
Side
Sides
Snack
Weekend
Weeknight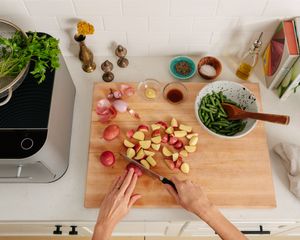 1
Prep green beans & potatoes
Trim stems from green beans. Cut beans into 1-inch pieces.
In large bowl, toss together green beans, 1 teaspoon cooking oil and a pinch of salt.
Evenly spread beans in Zone 1 of Brava glass tray. It's okay if some beans end up in Zone 2.
Cut potatoes into 1-inch pieces. In same bowl, toss together potatoes, 1 teaspoon cooking oil and a pinch of salt and pepper.
Evenly spread potatoes in Zones 2 and 3 of glass tray.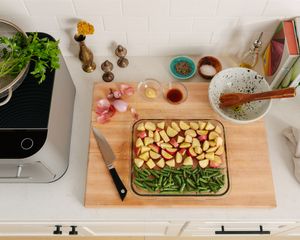 2
Slide glass tray into top oven shelf
Select "Roasted Red Potato Salad" on your oven touchscreen and follow instructions.
While food cooks, prepare vinaigrette.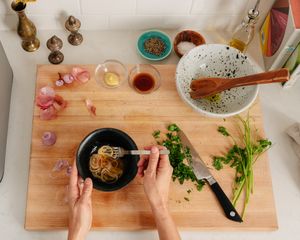 3
Make vinaigrette
Thinly slice shallot.
In small bowl, combine shallot, mustard, red wine vinegar, ¼ cup extra-virgin olive oil and 1 teaspoon salt; stir well.
Remove parsley leaves from stems; coarsely chop leaves. Set aside for serving.
4
Dress salad & serve
When your food is done, transfer potatoes and green beans to serving bowl. Add parsley and half of vinaigrette and toss to coat.
Taste and season with salt and pepper or more vinaigrette, if desired.