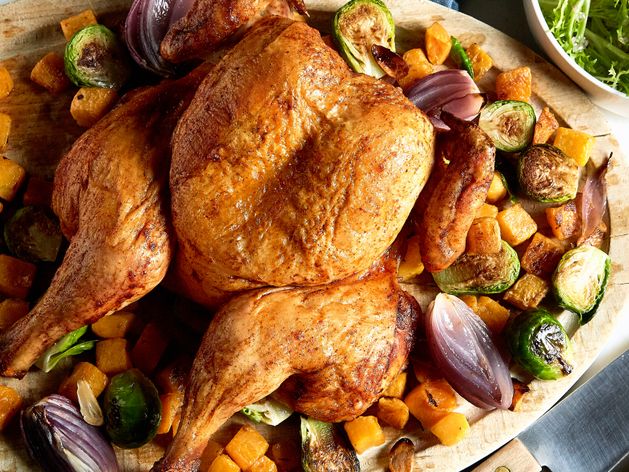 Ingredients
1 red onion
7 oz Brussels sprouts
2 cloves peeled garlic
¾ lb diced butternut squash, (¾-inch pieces)
¼ oz fresh rosemary
1 teaspoon sweet smoked paprika
1 spatchcocked chicken (about 3lb)
1 peeled shallot
1 lemon
1 head frisée
From Your Pantry
cooking oil
extra-virgin olive oil
kosher salt and black pepper
Equipment
Brava TempSensor
Brava metal tray
mixing bowls
Nutrition Information
Allergens: None
Tags
Chef's Picks
Dinner
Kid Friendly
Whole30®
Chicken
Dairy Free
Entree
Fall
Gluten Free
Metal Tray
Serves 4
Nutrition Information
Allergens: None
Keywords
Chef's Picks
Dinner
Kid Friendly
Whole30®
Chicken
Dairy Free
Entree
Fall
Gluten Free
Metal Tray
Serves 4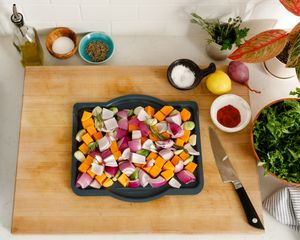 1
Prep vegetables
Peel red onion and cut into quarters.
Trim stem end and cut Brussels sprouts into 1-inch pieces (usually halved or quartered).
Thinly slice garlic.
In large bowl, toss together onion, Brussels sprouts, garlic, butternut squash, rosemary sprigs, 1 tablespoon cooking oil, half of paprika and a pinch of salt. Save remaining paprika for chicken.
Evenly spread vegetables in Zones 1, 2 and 3 of Brava metal tray.
2
Season chicken
Pat chicken dry with paper towels.
In small bowl, stir together remaining paprika and 1 teaspoon cooking oil. Using your hands, evenly spread paprika oil on chicken skin.
Season chicken with a few pinches of salt and pepper.
Place chicken, skin side up, on top of vegetables, with legs pointing toward right side of tray.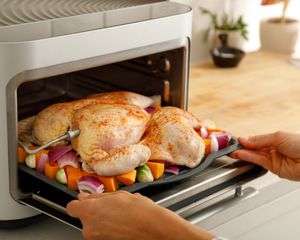 3
Slide metal tray into bottom oven shelf
Select "Spatchcocked Chicken" on your oven touchscreen and follow instructions.
After plugging in TempSensor, insert it horizontally through thickest part of chicken breast toward breastbone. It's okay if TempSensor tip touches breastbone.
While food cooks, prepare vinaigrette and frisée.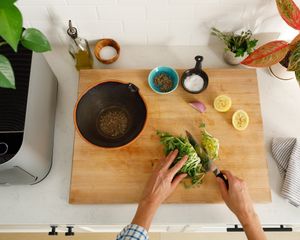 4
Make vinaigrette & prep frisée
Finely chop 1 tablespoon shallot. You may have some shallot left over.
In small bowl, combine shallot, juice of 1 lemon, 2 tablespoons extra-virgin olive oil and a pinch of salt and pepper; stir well.
Trim and discard root end and outer green leaves of frisée. Separate remaining frisée into individual leaves. Place in a medium bowl.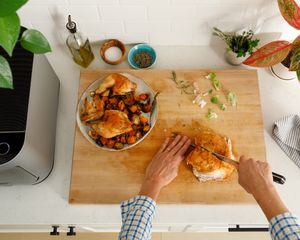 5
Carve chicken
When your food is done, transfer chicken to cutting board and cut into quarters, separating legs and cutting breast in half down the middle.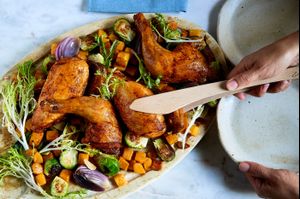 6
Dress frisée & serve
Discard rosemary sprigs and transfer vegetables to serving platter; place chicken on top of vegetables.
Toss frisée with vinaigrette to taste. You may have some vinaigrette left over. Garnish platter with frisée.
If desired, spoon some of remaining vinaigrette over chicken.