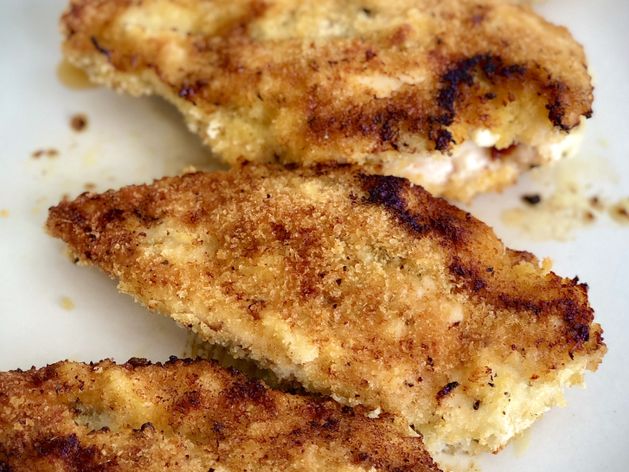 CUSTOM COOK
Crispy Stuffed Chicken Breasts
Key: LEC-NMY-WTC
About this Custom Cook
Crispy, juicy and utterly delicious. There are so many variations for the stuffing - I'll include some suggestions at the bottom of the recipe. I stuffed these with feta, sundried tomatoes and basil leaves. This will probably work well with gluten-free breadcrumbs, as well. If you don't want to make fewer than 4 chicken breasts you may want to slide the time down 5-10%. I used 12 oz chicken breasts for this recipe. I recommend resting on a wire rack for 5-10 minutes to allow the filling to settle and ensure the bottom side stays crispy.
4 chicken breasts (about 12 oz each or 3 lbs total)
Kosher salt and black pepper
1/4 lb cheese (like feta, goat cheese, fontina, mozzarella , provolone or cream cheese)
1/2 cup sliced sundried tomatoes (in oil), drained
1/4 cup chopped frozen spinach, thawed and squeezed to remove excess water
Fresh herbs (like basil, parsley, thyme, rosemary, sage or cilantro)
Kosher salt and black pepper
1 cup all-purpose flour
2 eggs, lightly beaten
1 1/2 cups bread crumbs (preferably panko)
1 teaspoon dry Italian seasoning (optional)
Extra-virgin olive oil
You will need:
3 mixing bowls or shallow dishes
Brava metal tray.
Wire cooling rack (optional)
1. Place chicken breasts on a cutting board. Press hand on top of one breast. Using a sharp knife, make a small slit on the side of the breast at the thickest part. Cut an opening about 3 inches wide, then cut about 3/4 through the breast, making sure you don't cut all the way through. You should be able to open the chicken breast like a book.
2. Season both sides of chicken with salt and pepper.
3. Using a spoon or your hands, stuff 1 oz cheese, 1 tablespoon of spinach, a few sundried tomatoes and some fresh herb leaves inside each pocket.
4. Place flour in first bowl.
5. Stir together eggs and 2 tablespoons water in the second bowl.
6. In third bowl, stir together breadcrumbs and Italian seasoning.
7. Add chicken to bowl with flour and coat evenly; shake off excess.
8. Dip chicken into egg mixture and coat completely; shake off excess.
9. Dip chicken into bread crumb mixture and coat evenly; shake off excess. Using your hands, gently press breading into chicken to ensure it adheres.
10. Using your hands, spread about 3 tablespoons extra-virgin olive oil on Brava metal tray. Spread chicken in Zones 1, 2 and 3 of metal tray.
11. Slide metal tray into top shelf and press green button to begin cooking.
12. Note you will flip the chicken after 16 minutes.
13. When your food is done, transfer chicken to wire rack to rest for 5-10 minutes before serving.
Other Fillings:
- Goat cheese and roasted bell peppers
- Fontina, basil and prosciutto
- Manchego cheese and serrano ham
- Cream cheese, jalapenos and bacon
- Provolone, olives and sundried tomatoes
- Fontina and dried figs