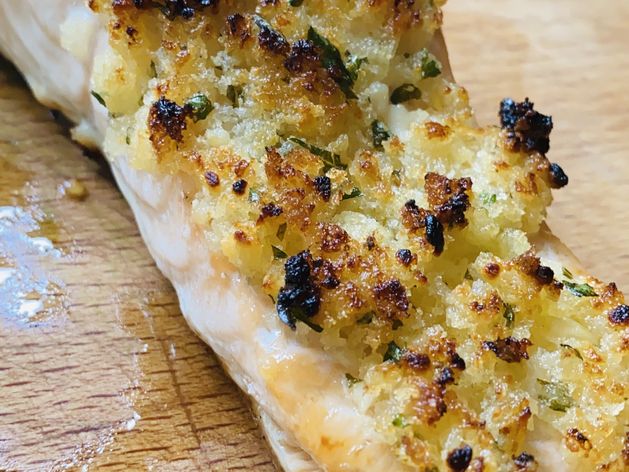 CUSTOM COOK
Garlic and Butter Crusted Baked Salmon
Key: KJF-ARJ-EKL
About this Custom Cook
Looking for the most amazing buttery and garlicky salmon recipe ever? Let your Brava deliver it for you!
Ingredients:
4 salmon filets
Kosher salt
Non-stick spray
4 Tablespoons butter, melted
4 cloves of garlic, minced
1/3 Cup Panko breadcrumbs
Juice of 1/2 lemon
1/4 Cup grated Parmesan cheese
1 Tablespoon finely chopped parsley
Directions:
Wipe salmon with paper towel and season with salt. Spray your Brava metal sheet pan with non-stick spray and evenly space the salmon filets.
In a bowl mix butter with garlic, breadcrumbs, lemon juice, Parmesan and parsley until it forms into a granulated paste. Use a spoon or your fingers to adhere this paste on top of each salmon filet evenly.
Place on top rack of Brava and press the green button.
Note: You may need to cook the salmon longer if your salmon is thick.