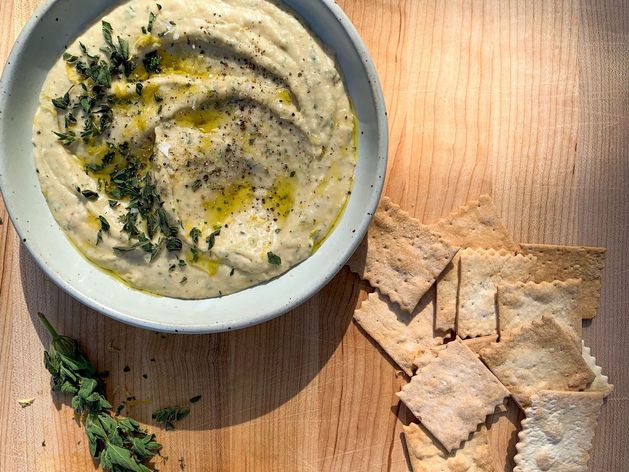 CUSTOM COOK
Roasted Garlic + White Bean Dip
Key: JWX-WKJ-XAK
About this Custom Cook
This recipe for roasted garlic and white bean dip is easy, healthy, and flavorful! This recipe program roasts garlic in the Brava, and the rest comes together by pulsing in a food processor. Make this recipe once and store in the fridge for a delicious work-from-home snack with crackers, or as an appetizer with warmed pita bread or toasted baguette. You'll notice I give a range of how much roasted garlic to use. The amount of garlic you use will depend on its size, and how much garlic you prefer! Once mixed together, add more lemon juice and herbs as needed to brighten it up.
Ingredients:
1 Head of garlic
15 Ounce can of Cannellini beans (or other white bean), drained/rinsed
1 Teaspoon lemon zest
1/4 Cup fresh lemon juice (about the juice of 1 and 1/2 lemons)
1 Tablespoon + 1/3 Cup extra virgin olive oil, divided
2 Tablespoons fresh oregano (or another fresh herb i.e. flat leaf parsley, or basil)
Kosher salt
Cracked black pepper
Instructions:
1. Slice top about 1/4" of head of garlic off to expose the cloves and keep the rest of the head in tact.
2. Place in Zone 2 of your Brava Metal Tray, drizzle with 1 tablespoon olive oil, and place on the top shelf.
3. Pull up recipe instructions for "Roasted Garlic + White Bean Dip" on your Brava and press the green button to begin cooking.
4. When the garlic is done roasting, let cool, and remove cloves by pulling the head apart and gently squeezing each clove out.
5. In a food processor, pulse together: 1/2-1 full head of roasted garlic, white beans, lemon zest and juice, 1/3 cup olive oil, fresh oregano, kosher salt, and cracked black pepper. Pulse until mixture is combined and somewhat smooth.
6. Season to taste. If it needs more garlic, add more! If it needs brightness, add more lemon juice and/or fresh herbs. If it's a bit bland, add more salt.
7. To serve, transfer to bowl and drizzle with more olive oil. Garnish with additional fresh herbs, lemon zest and juice, flaky salt, and freshly cracked black pepper.