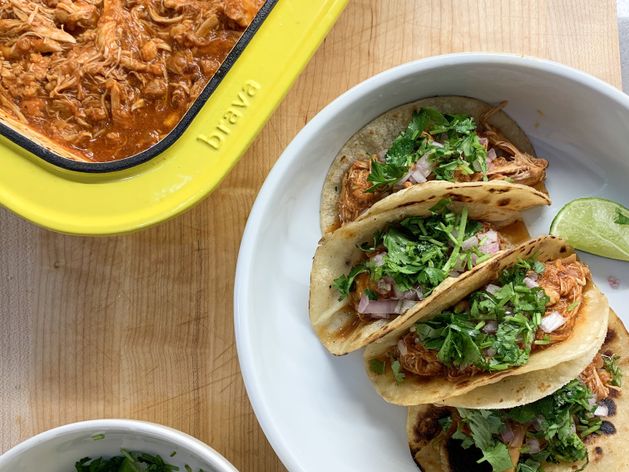 CUSTOM COOK
Braised Chicken Tinga Tacos
Key: JUE-XXF-UAM
About this Custom Cook
Chicken Tinga is a popular Mexican dish that simply translates to chicken that's braised in tomatoes, chilis, and onions. It's incredibly flavorful, and actually really easy to make! I have been making it for years and it's always a huge hit at dinner parties. I've seen it popping up all over food magazines recently, and I'm sharing my take here. I love to braise chicken tinga in the Brava to serve in tacos, but you could use it in a burrito bowl, over healthy whole grains, on a salad, in a quesadilla, the list goes on. The gist of this recipe is to make a quick sauce of canned fire roasted tomatoes, chilis, onions, and garlic. Then, you'll simmer chicken in that sauce in the Brava using our new Slow Cook feature! Traditionally, I use tomatillos in this recipe for a tart flavor, but I'm suggesting a splash of apple cider vinegar in it's place to simplify the recipe - feel free to omit it if you don't already have it on hand.
Ingredients:
2 Tablespoons olive oil or butter
1/2 Large yellow onion, diced
4 Cloves of garlic, diced
1 Teaspoon ground cumin
1/2 Teaspoon dried oregano
2 and 1/2 Tablespoons canned chipotles in adobo sauce (use a combination of the sauce in the can, and chopped up peppers from the can)
1 and 1/2 Tablespoon apple cider vinegar (optional)
15 Oz can crushed fire roasted tomatoes
1 Bay leaf
2 Lbs boneless skinless chicken thighs (or breasts - though thighs braise best)
Instructions:
1. Sauté diced onion on stovetop until soft. Add diced garlic, cumin, oregango, and chipotles in adobo. Stir to combine, and sautee for a minute or two until fragrant.
2. Add the apple cider vinegar and stir mixture around with wooden spoon to lift any browned bits from the pan.
3. Add crushed tomatoes and bay leaf, bring to a boil, and then turn the heat down to low and simmer for about 5 minutes.
4. When you've made your sauce, arrange chicken thighs in your Brava Chef's Pan, season them generously with kosher salt, cracked black pepper, and cover them with your sauce.
5. Put the lid on your Chef's Pan, put it on the top shelf, and follow recipe instructions on your Brava for "Braised Chicken Tinga Tacos". This recipe program has built in the Brava Slow Cooker feature on "High" for 2 hours.
6. When your food is done cooking, remove from Brava, shred with forks, and serve over warmed tortillas for tacos. Top with lots of fresh lime juice, diced up onion, and cilantro.