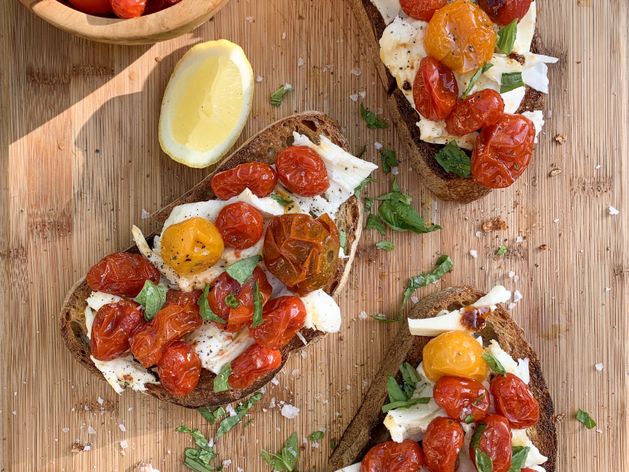 CUSTOM COOK
Roasted Tomato Caprese
Key: JTT-WYC-CXH
About this Custom Cook
Want to take your caprese salad to the next level? Arrange roasted tomatoes on a platter with fresh mozzarella or burrata and torn basil, or on top of toasted baguette for a more substantial Summer appetizer! Roasting cherry tomatoes in the Brava concentrates their sweetness and adds a punch of umami flavor. If serving on top of baguette slices, try cutting the top off of a clove of garlic and rubbing it on the toasted baguette slices to impart a fresh garlic flavor. This recipe is flexible - add more fresh mozzarella if you want.
Ingredients:
- About 1 lb Cherry Tomatoes
- 1 Tablespoon Olive oil
- Kosher Salt
- About 8 ounces Fresh Mozzarella
- Fresh Basil
- Cracked Black Pepper
- Flaky Salt (optional)
- Baguette to slice and toast for serving (optional)
- 1 garlic clove (optional)
- Fresh lemon or balsamic vinegar for serving (optional)
Instructions:
1. Toss cherry tomatoes with olive oil and salt, and arrange evenly on the Brava Metal Tray.
2. Pull up the Roasted Tomato Caprese custom cook on your Brava, place the metal tray on the top shelf, and press the green button to begin cooking.
3. When the tomatoes are done roasting, arrange on large serving plate with slices of fresh mozzrella and top with drizzles of extra virgin olive oil, chopped fresh basil, flaky salt, and cracked black pepper. If desired, instead of plating ingredients on a platter, serve over thick toasted baguette slices for a more substantial appetizer.