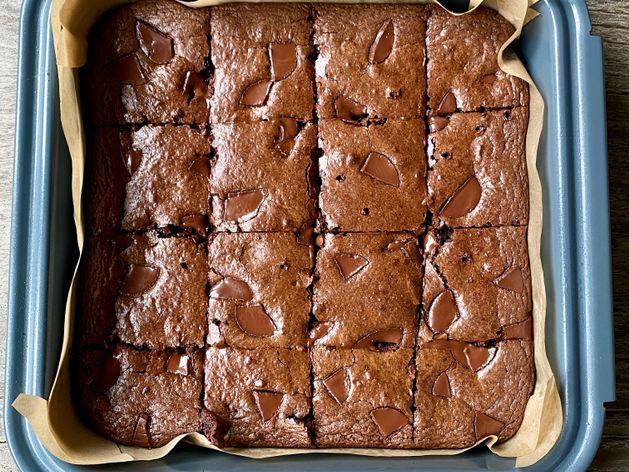 CUSTOM COOK
Chef Vanessa Musi Paleo Brownies
Key: JAK-WHY-FNL
About this Custom Cook
THE BEST PALEO BROWNIES EVER
I love these brownies! They are chewy, not too sweet, a perfect balance of goey, chewy and cracky top. You would never know they are healthy!
Paleo, dairy free, gluten free, grain free
Chef Vanessa Musi
www.vanessamusi.com
https://www.instagram.com/chefvanessamusi/
Ingredients: Makes: 16 pieces, a 9 inch brownie pan
3 large organic eggs, room temperature
10 grams vanilla
150 grams 70 % chocolate such as Guittard or Valrhona, chopped
100 grams avocado oil
200 grams coconut sugar
200 grams fine almond flour (I use the one from Costco)
1 1/2 teaspoons baking powder: gluten free, aluminium free such as Rumford (at high altitude use ¾ teaspoon)
½ teaspoon fine sea salt
25 grams Dutch process cocoa such as Valrhona
25 grams cocoa such as Guittard
60 grams 70 -85% chocolate, chopped
Method:
Lightly grease and the 9 inch square brownie pan from Brava, cover with parchment paper to cover the bottom and sides. In a medium bowl: sift: almond flour, cacao, cocoa, salt and baking powder. Preheat the brava oven to 350 F.
Melt the 150 grams of chocolate in a ceramic bowl in the microwave in 3 intervals of 30 seconds until melted and then mix the oil in with a whisk or spatula.
In a large bowl: whisk eggs + vanilla + coconut sugar until light add chocolate and oil mixture and combine well.
Add the almond flour mixture. Add half of the chopped chocolate.
Put the batter in the prepared pan. Level the batter with an offset spatula and sprinkle the rest of the chocolate. Bake for 17 mins at 350 F.
Cool for several hours so that they set well and cut into 9 pieces. These keep well for about 3 days max. Store in a covered container at room temperature.
Optional add ins: 1/2 cup chopped pecans, walnuts, chopped almonds, white chocolate chips (not paleo), macadamia nuts.