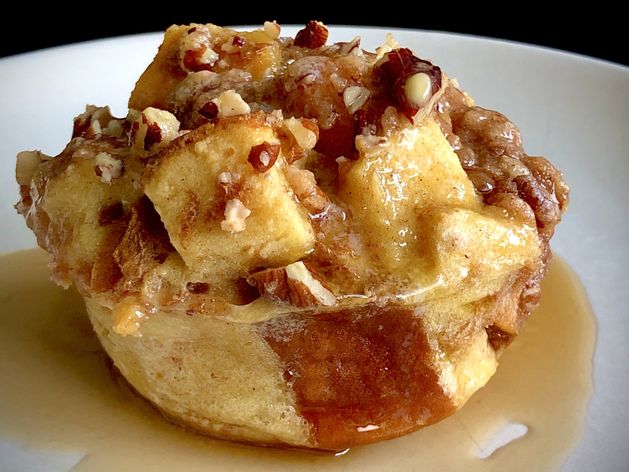 CUSTOM COOK
French Toast Muffins with Cinnamon Pecan Streusel
Key: HYX-HRT-NPP
About this Custom Cook
The streusel is optional, so feel free to omit it if you're short on time. It's fine to use other nuts like almonds, walnuts, hazelnuts or peanuts if you don't like pecans. I prefer to use brioche for this recipe, but white bread or sourdough would be good, too. If you don't have half and half it's fine to just use 1 cup milk instead. You can also assemble everything in the muffin pan the night before if you cover with plastic and store in the refrigerator.
FOR THE STREUSEL
2 tablespoons cold unsalted butter, diced into small pieces
2 tablespoons all-purpose flour
1 tablespoon granulated sugar
1 tablespoon brown sugar, packed
1/4 teaspoon cinnamon
pinch of kosher salt
1/4 cup chopped pecans
1. In small bowl, using your fingers, work together butter, flour, sugars, cinnamon and salt until you have coarse crumbs. Mix in pecans and store in freezer until ready to use.
FOR THE MUFFINS
2 eggs
2/3 cup whole milk
1/3 cup half and half
2 tablespoons granulated sugar
1 teaspoon vanilla extract
1/4 teaspoon cinnamon
pinch of kosher salt
6 cups cubed bread (about 6 slices)
Butter, for serving
Maple syrup, for serving
2. In medium bowl, whisk together eggs, milk, half and half, sugar, vanilla, cinnamon and salt. Add bread and gently fold together with custard base.
3. Spray wells of Brava muffin pan with cooking spray. Evenly distribute muffin mixture in wells. You will have to use your hands to shape the tops, as they will be slightly overfilled. Sprinkle streusel over tops of muffin mixture.
4. Press green button to begin preheating.
When Brava notifies you, slide muffin tray into top shelf and press green button to begin baking.
When your food is done, cool muffins for 5 minutes in tray.
Serve with butter and maple syrup.